Something a bit different for today's #ManiMonday post, – nail stencils. Being the nail art enthusiast that I am I probably should have use these more than a handful of times. I was excited for the challenge when Nail Mail sent me a selection of their Nail Vinyl Stencils*.
Nail Mail was started around two years ago by Kelly, a nail art enthusiast that realised the gap in the market for UK Nail Vinyl Stencils. She had always been obsessed with Nail Art but was constantly finding that the designs she longed for were out of stock. Or came with ridiculously high postage costs. I don't think she could have thought of a better resolution then to start her own company, Nail Mail. With the amount of Nail Art I've done over the years I should probably be able to call myself an expert by now. I'm far from it. These are ideal for beginners as they take little preparation and time and are a very low price to pay for 'salon worthy' nails.
For this nail art look I've chosen their Chevron Arrows pattern and used BarryM Blood Orange for the base and Turquoise for the Chevrons. I thought these were both perfect summer colours and the blue would stand out against the orange too. I used two coats for the base coat to ensure I had a nice strong colour. Then covered it with my Orly Tough Cookie Top Coat and allowed it to completely dry. Before even attempting the vinyl stencils.
I placed the stencils where I wanted them on my nails and did each one at a time, removing the stencil from the nail whilst the polish was still wet. Again, I allowed these to thoroughly dry before going over the finished nail with my Orly Top Coat. I decided to do the Chevrons on just my 'feature' nail and my thumb for this design. But looking at them now I think they would have looked nice on all the nails too. Although the nail on my little finger may have been too small.


I'm so impressed with how these turned out and can't wait to try some other designs.
Have you used nail stencils before? I'd love for you to send me some of your finished creations on Twitter (@AmiRoseBlog)
Until next time,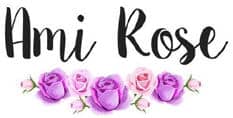 Be sure to follow me on social media to keep up to date with my latest posts!
You can find all of my social media links in the sidebar. I am @AmiRoseBlog on everything.