I saw this "top secret" Starbucks Lemon Loaf recipe circulating Facebook a few weeks ago and just had to give it a go myself. I'm not sure whether it actually is the Starbucks Lemon Loaf recipe but it looked so simple and I had all the ingredients in the cupboard. As I mentioned in my Banana Muffins recipe post last week I didn't own a loaf tin. I borrowed one to make this Starbucks Lemon Loaf but I've since invested in one and I'm already planning many more loaf recipes. Please suggest any recipes you'd like me to try/make in the comments as I always like a challenge.


Starbucks Lemon Loaf Ingredients:
Makes 1 Loaf
 200g flour
1/2 teaspoon baking powder
1/2 teaspoon salt
3 eggs
130g caster sugar
2 tbsp butter
1 teaspoon vanilla extract
1 teaspoon lemon extract
100ml fresh lemon juice
40ml oil
Icing
130g icing sugar
2 tbsp milk
1/2 teaspoon lemon extract
Method:
Preparation – 20 minutes | Baking – 45 minutes
1. Preheat oven to 180c and grease loaf tin.
2. Combine flour, baking soda, baking powder and salt in a bowl.
3. In another bowl mix together the eggs, sugar, butter, vanilla, lemon extract and lemon juice then add to the flour mixture and stir with a wooden spoon until well combined. Add the oil and mix again.
4. Pour into your prepared loaf tin and bake for 45 minutes until golden and a skewer comes out clean. Leave to cool for 45 minutes.
5. Make the icing by mixing the icing sugar, lemon extract and milk together, remove loaf from the tin once cool and top with the icing. Leave the icing to set for around 20 minutes.
Enjoy…
Please send me your photos on Twitter (@AmiRoseBlog) if you have a go at making this Starbucks Lemon Loaf recipe, I would love to see them.
Until next time,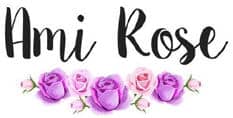 Be sure to follow me on social media to keep up to date with my latest posts!
You can find all of my social media links in the sidebar. I am @AmiRoseBlog on everything.