I had been counting down the days to this event from at least a month before (probably more like two months). I met Kirsty and Adele – the founders of PLB Events – at the Shropshire Blogger Meet in May so I couldn't wait so see them again. As well as meet all the other lovely bloggers that had planned to come to the Bristol event. Bristol is my nearest city so I was eager for this event and glad I could make it; I have to travel into London for most blogger events so it was really nice to attend one that was almost on my doorstep. And I was looking forward to trying Cosy Club Bristol.


I arrived at the event after a pilava with the car park. I won't go into detail but things didn't want to go my way that morning. I'd never heard of the Cosy Club Bristol before but discovered that they had various branches throughout the UK so I'm going to search for the others whilst I'm on my travels. I got chatting to everyone straight away, found out everyone's names and all about their blogs. I'm rubbish at remembering names though but I did follow everyone on Twitter so I'm looking forward to reading your blogs and getting to know you better.
Then I made my way to the bar for a drink. I'd been recommended the Cosy Club Bristol cocktails but as I was driving I decided to go for the safe option and order a milkshake. I couldn't decide between the banana and strawberry so I asked the bartender. He made the decision much easier for me as he mixed them both together. A banana and strawberry milkshake – it was absolutely gorgeous.


I took my drink back to our cosy private room and continued chatting with the other girls. We had a look at the raffle prizes together and chose our favourites if we were lucky enough to win, I especially loved a Pumpkin Spice candle. There were two brands that attended the event to tell us about their products, SASS and Dry-U. I'll write a bit more about these brands in separate posts but SASS is a brand for the ladies, they do intimate care products and Dry-U make fully waterproof adventure bags. I really could have done with one of these when I 'pedaloed' out to see in Majorca as I was worried about taking my camera with me.

I ordered a Grilled Halloumi, Sundried Tomato and Red Pepper Chutney with Hummus and Spinach Panini for lunch. Something a little different for me as I hadn't tried Halloumi before and had only tried Hummus once. But I do like stepping out of my comfort zone occasionally. And I'm glad I did as I thoroughly enjoyed it. I've already suggested to Sam that we go back to the Cosy Club for lunch in the near future.
After we'd all finished our lunch it was raffle time. It worked out really well as we all managed to take a prize home. The Pumpkin Spice candle that I'd been eyeing up went first but I picked up a GloLite by Partylite candle in Fig Fatale which smells gorgeous. I cannot wait to light it but I've got a few others that I want to finish first. After the raffle we were given our fantastic goody bags (pictured above) and started filtering off. I don't travel into Bristol often so I did a little shopping afterwards. I did plan to start my Christmas shopping but that didn't happen. I've still not bought my first present and I'm usually really organised.
Thank you Adele and Kirsty for inviting me along to Cosy Club Bristol for yet another fantastic event. I can't wait for the next one!
Until next time,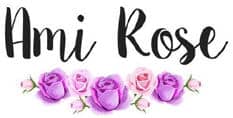 Be sure to follow me on social media to keep up to date with my latest posts!
You can find all of my social media links in the sidebar. I am @AmiRoseBlog on everything.