Popcorn Bark – The perfect sweet treat for all you chocoholics, so easy to make and absolutely delicious. I often make this and leave it in the fridge (I love cold chocolate) and snack on it throughout the week. It's not an ideal snack but you need the naughties every now and again. I used Milkybar and Green and Black's Raisin and Hazelnut Chocolate and Thomas Tucker Coconut Toffee Popcorn but you can add whatever you like. I've made this with cranberries and cashew nuts before which was gorgeous.

Popcorn Bark Ingredients:
Makes around 15 pieces
200g milk chocolate
200g white chocolate
1 bag of popcorn
(or another topping of your choice)
Method:
Preparation – 5 minutes | Chilling – 1 hour
1. Line a baking tray with baking paper.
2. Break the chocolate into chunks and melt them separately over a pan of boiling water (or in the microwave if you want to make it even easier).
3. Pour most of the chocolate onto the tray, roughly swirling together, you don't need to be neat about this as this is what gives it the desired marble effect.
4. Pour the popcorn onto the tray with the chocolate then drizzle over the remaining chocolate.
5. Leave to set in the fridge, this will take around an hour.
Enjoy…
Have you made Popcorn Bark before? I'd love to see your photos on Twitter (@AmiRoseBlog) if you have a go at making this yourself.
Until next time,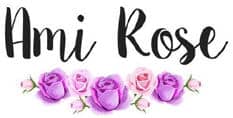 Be sure to follow me on social media to keep up to date with my latest posts!
You can find all of my social media links in the sidebar. I am @AmiRoseBlog on everything.