I've been writing New Years Resolutions for years. I've had my current phone for 4 years and I've still got each year saved to my notes. It's always something I've sat long and hard and thought about. What I want to achieve that year, where I want to be by the end of the year. I think it's nice to have plans and have it written down to refer back to. I usually achieve my resolutions, I probably don't set hard enough ones but by the end of the year I'm usually pleased with what I have achieved. That was until last year, 2015, which was a disaster.

2015 New Years Resolutions
Buy a House; we've managed to save the deposit so I guess we're half way there. But both being self-employed makes getting a mortgage ridiculously difficult. We've saved much more than 'average' for a deposit but we're still not getting anywhere with the mortgage side of things. This is on my resolutions for this year but I'm starting to think it's an 'undoable' task *cries*.
Run 10k; my fitness is awful and by the end of 2015, I still can't run the 200m to the local pub. I'm meant to be running a half marathon in September which is laughable but if I achieve it, or even attempt it I hope people can reflect on the fact I couldn't even run 200m 9 months prior.
Finish Gym; there's a container at my work that I was going to turn into a little gym room to workout at lunchtimes or before/after work. I got as far as painting it and that's about it. Getting really disappointed in myself whilst writing this post…
Get Fit and Tone Up; in my non existent gym and I don't think you could call being able to run 200m fit *cries even more*. I help Sam in the workshop and I struggle holding things above my head for more than a minute. Something that Sam would do for hours without thinking about it. I'm lucky I've stayed slim considering how unfit I am.
Blog At Least 3 Times A Week; the only resolution I have done, which shows just how much my blog means to me and just how motivated I am by it. If I set blog goals, I reach them, if I don't, I try harder, then I reach them. I don't know why I can't be motivated in my health and fitness and life as I am with my blog.
I don't usually share my personal New Years Resolutions/goals on my blog. I'm always happy to share fitness goals and blog goals but the life goals I tend to keep to myself. I'm changing that this year, although it's been hard to share last years goals with you and tell you just how appalling I was at sticking to last years I've got a feeling that sharing this years with you will help ms stick to them. Here goes nothing…
2016 New Year's Resolutions
Buy a House; I'm keeping this one on there. Considering we have our deposit already, all we can do it keep adding to it and crossing our fingers that someone gives us a mortgage for the rest!
Run Bristol Half Marathon; *laughs*, considering how this year panned out that's highly doubtable but it's worth a try. I've got 9 months to train but 13 miles seems impossible when there's no way I could even run 1!! Watch this space, we'll have to see what happens in September.
Start Vlogging; a big goal but I have vowed to do VLOGmas this year but even if I upload one vlog I will be happy with myself and consider this goal achieved. I'm not very confident and hate my Gloucestershire farmer accent, but it's something I'd love to do and I've got to start some day.
Tone Up; it's been on my New Year's Resolutions for the last 5 years and I've never achieved it but this is going to be my year, I've already started my New Year Health Kick so I'm hoping for some motivation to continue this throughout the year.
Take A Photo Everyday; a photo of anything, whether it be myself, where I am, the food I've eaten or my dog. I think this will be fabulous to bring back memories. I'm going to start a scrapbook this year and add photos, tickets, keepsakes to look back on and smile in years to come.
What are your New Years Resolutions this year?
Until next time,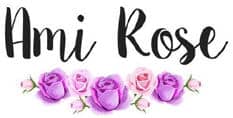 Be sure to follow me on social media to keep up to date with my latest posts!
You can find all of my social media links in the sidebar. I am @AmiRoseBlog on everything.