Since getting my SensatioNail Starter Kit a few months ago and being more than impressed with it. You can read my original post here. I have been lusting over new colours. I've never had my nails done professionally, I enjoy painting them so much myself. I went to Clothes Show last month and was over the moon when I came across the SensatioNail stand and started eyeing up their collection right away, especially SensatioNail Purple Orchid. I went with Sam's brother's girlfriend and she bought a Starter Kit after I'd explained how it worked and she had a go using it herself. It's SO simple.

I loved SensatioNail Purple Orchid the minute I set my eyes on it, it's a deep purple with a little metallic shimmer (which doesn't show up amazingly in these photos). It's an ideal colour for the Winter months and I feel the colour really suits me.
The colours* cost £15, or less as they're often on offers at Boots stores or SensatioNail directly. Boots currently have this gift set containing FOUR gel colours for just £25 (worth £60). I don't feel £15 is much considering it'll do 20 manicures each lasting 2+ weeks, so technically 75p per manicure, but you do have to purchase the gel base and top coat, cleanser, primer and lint free wipes every so often which adds to the cost.
The photos were taken after one and a half weeks as I was waiting for the sun to make an appearance to take the photos, it didn't though so photos aren't perfect and you can't see how the gorgeous shimmer catches the light. You can get an idea of the colour though and there's better swatches on Boots and SensatioNail's websites (linked above).
Mum and I both did our nails with this colour and we got so many compliments, I don't know about Mum but I've been asked so many times where I got them done and I love being able to answer 'I did them myself'. My nails are growing nicely again too, finally!
Have you tried SensatioNail or another home gel nail kit? What do you think of SensatioNail Purple Orchid?
Until next time,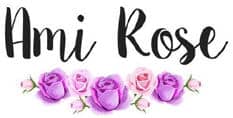 Be sure to follow me on social media to keep up to date with my latest posts!
You can find all of my social media links in the sidebar. I am @AmiRoseBlog on everything.