I've been wanting to get my hands on Models Own Liquid Metal Collection for a long long time. When I noticed them at the Clothes Show I jumped at the chance. They had all of their products on a 4 for £10 offer. I almost went for four different polishes from the Liquid Metal Collection but decided to try their Glitter Gel and Matte Effects too.


I haven't bought many Models Own polishes over the years but I've always loved the ones I do own. They're long lasting and dry SO quickly which is something I always look for in nail polishes. I'm so impatient when it comes to waiting for nail polish to dry.
For this look I've used Chrome Pink from the Models Own Liquid Metal Collection and used three coats to get my desired effect. It did cover well after just one coat but my nails are quite cracked at the moment (they really need some TLC). One coat it allowed these cracks to show through the polish. As it was such a quick dry polish I did a couple of extra coats to get a nice thick coverage.
I love the finished look of these nails, they stand out but not too much. This colour would be perfect for all seasons too. I can't wait to start doing some Spring nail looks. After using this polish I'm slightly annoyed at myself that I didn't buy more colours from the Liquid Metals Collection. There's always time though right? I also bought Chrome Mauve which I'm sure I'll be featuring in a future Manicure Monday.
Have you tried Models Own Liquid Metal Collection? Do you have a favourite? I love the Rose Gold but sadly they were sold out at Clothes Show.
Until next time,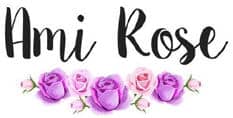 Be sure to follow me on social media to keep up to date with my latest posts!
You can find all of my social media links in the sidebar. I am @AmiRoseBlog on everything.