Another blueberry recipe for you but I can't get enough of them. I absolutely love them but my fiancé isn't too keen, he can't wait for the apple and blackberry pies! I thought I'd put a twist on the standard blueberry crumble recipe and make them into slices instead; they were lovely with a little Cornish Ice Cream but I can imagine they would have been nice with custard too.


Blueberry Crumble Slices Ingredients:
Makes 8 (very big) slices
Dough
180g plain flour
100g granulated sugar (I used xylitol)
1/2tsp baking powder
110g unsalted butter
1 egg
2tbsp demerara sugar
Blueberry Filling
50g granulated sugar (I used xylitol)
200g blueberries
2tsp cornflour
1tbsp fresh lemon juice
Method:
Preparation – 15 minutes | Baking – 45 minutes
1. Preheat the oven to 190 degrees Celsius and line a baking tin with greaseproof paper. Mix the blueberries, sugar, cornflour and lemon juice together in a bowl to make the blueberry filling and set aside.
2. Mix flour, sugar, butter, baking powder and egg with and electric whisk until the ingredients are mixed together but still very crumbly; set half of this dough aside.
3. Press one half of the dough into your prepared baking tin to make a shortcake type base, then pour over the blueberry mixture and spread evenly over this pressed dough.
4. Crumble the remaining dough over the top of the blueberry filling and sprinkle over a little demerara sugar. Bake for 35-45 minutes until the dough has browned and blueberries are bubbling.
Enjoy…
Please send me your photos on Twitter (@AmiRoseBlog) if you have a go at making these Blueberry Crumble Slices, I'd love to see them.
Until next time,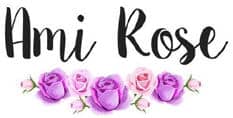 Be sure to follow me on social media to keep up to date with my latest posts!
You can find all of my social media links in the sidebar. I am @AmiRoseBlog on everything.