Butterfly Twists, known for their patented featherweight, flexible sole were founded in 2007; the idea of Butterfly Twists came about when two brothers and their friends made a bet that saw one of them attending a party in six inch stilettos, what the bet was I don't know but this then led to the discussion of creating women's shoes with style and comfort to suit a flexible lifestyle.






After spending nearly an hour on their website (www.butterflytwists.com) I decided on these Zara Ballet Pumps* which retail at £35. They arrived in a cute box, with another little drawstring bag inside, perfect for when you're storing your shoes in you handbag to stop them getting damaged or dirty. I loved the attention to detail in the box/accessories as well as the shoes themselves.
I'm not sure what made me choose these shoes. It was between these and the Gabriella Loafers but Sam wasn't too keen on the latter (yes I do take fashion advice from my fiancé). I thought that these would go with many different outfits and styles. And being black they'd go with almost any colour too. The Zara Ballet Pumps are made in a velvet material with an elasticated trim. The soft velvet meant that I didn't need to break in these shoes whatsoever. Right from the first moment I put them on they were as comfortable as they are right now. Most, if not all of Butterfly Twists shoes have a memory foam cushioning too meaning it's honestly like walking on clouds.
The idea of these shoes is to carry them in your handbag when you're on a night out so you have something to change into when your feet get sore. Or when you get a little too tiddly for dancing in six inch heels. I know I can manage around an hour in heels before my feet start hating me. I better get practising for party season. These don't just have to be used as 'stand bys' though. I've been opting for these to go with my everyday workwear as they're smart and perfect for the transition between summer sandals and winter boots.
Butterfly Twists don't just do ballet pumps, they also do wellies and flat sandals so you can experience this comfort in all weathers, I'd love to try some of their wellies, although I have just bought myself a new pair lined with lambswool and they're so comfortable.
Have you ever owned any Butterfly Twists? Have you seen any you like on their website?
Until next time,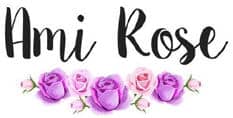 Be sure to follow me on social media to keep up to date with my latest posts!
You can find all of my social media links in the sidebar. I am @AmiRoseBlog on everything.