As I said on Twitter, there wasn't a Manicure Monday post last week because my SensatioNail was just too good. I write Manicure Monday posts 'in the moment' so I paint my nails and then write about it, which is usually a weekly occurrence. After trying the SensatioNail Kit for the first time a couple of weeks ago I found that it was just too perfect to remove after a week (I actually left it on for three weeks) so I couldn't write you a new Manicure Monday post, I even tried to find old nail art photos to write about. It's back to weekly posts now, unless SensatioNail send me new colours to write about! (a girl can dream right). I couldn't wait to share the Glitterati Collection with you.


For this weeks Manicure Monday I have used a polish from BarryM's Glitterati Collection which I've mentioned a few times, I've only got a couple more polishes until I complete the collection, it's probably one of my favourite ranges by BarryM as there's such lovely colours. I've used VIP for this look. Although it's not really a look it's more like 'I've painted my nails and here's a photo' but I really wanted to share this colour with you as I think it's a perfect wintery colour.
My nails needed a little TLC after my holiday and removing the gel polish so I used No7's Nail and Cuticle Cream and used my Model's Own Nail Buffer to bring out the shine. I then used Orly Tough Cookie to give them a little more strength but a couple had broken before I got to this point. After my base coat had dried I applied my first coat of BarryM's VIP, I was amazed at the coverage after just one coat, I'm so used to glitters being sparse on my nails, after two coats this glitter gave full coverage (I'm so used to having to do about 8 coats to get to my desired look).
I waited for the polish to completely dry for about 30 minutes then finished with a coat of Orly Tough Cookie to seal the polish and remove any texture that the glitter creates. Often glitter gives a textured finish and I tend to catch this on things and peel it off so I always ensure I use a clear top coat.
I love love love this colour, it reminds me of the film Frozen (hence the title) and I think it's a perfect, winter colour, I can't stop looking at my nails and I think Sam's getting fed up of me showing them to him, whoops!
What do you think of this colour? Have you got any polishes from BarryM's Glitterati Collection?
Until next time,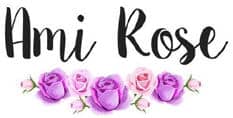 Be sure to follow me on social media to keep up to date with my latest posts!
You can find all of my social media links in the sidebar. I am @AmiRoseBlog on everything.