I suffer really badly with dry/damaged hair, I think I'm quite unlucky as I'm always so careful. I straighten my hair around once a fortnight and I can probably count on one hand how many times I have blow dried my hair… in my life. I've tried many products over the years but I think I'm beginning to accept that this is my hair type and it may never change. This Shea Moisture Kit may help though. I've recently decided to get into a routine of having it cut every 4 weeks. Just a little off the ends but I think it'll make a difference to the condition of my hair and help it grow too.


I was given the chance to try Shea Moisture's Raw Shea Butter and Argan Oil Repair and Transition Kit*. Made with Sea Kelp and Avocado Oil aiming to 'restore moisture to dry, damaged hair. Repair chemically treated hair and transform to beautiful, healthy hair'. Shea Moisture do many haircare ranges for different types of hair including Curl and Shine, Smooth and Repair, Clear and Balance and Thickening and Volumising. There's something for everyone. I chose the Repair and Transition as I thought this would be the most beneficial for my hair.
This kit is designed to moisturise, strengthen and repair whilst providing a protective barrier from 'environmental stessors'. Sun, wind, cold and rain all play a major impact on the condition of your hair. The Shea Butter in this range moisturises and nourishes with fatty acids and vitamins. Argan Oil restores shine and helps build elasticity and Sea Kelp seals and smoothes hair cuticles. The Repair and Transition Kit comes with a Moisture Retention Shampoo, Restorative Conditioner, Reconstructive Finishing Elixir and a Deep Treatment Mask. These can all be used together (one after the other obviously) or can be used on different occasions as they don't need to be used together.
I started with the Moisture Retention Shampoo. You don't need to use much of this as it lathers pretty well. I massaged a small amount into my hair for around a minute, rinsed and repeated. I always mention in hair care posts that it's important to shampoo twice. The first time you're just moving the dirt around your scalp/hair and the second you're actually rinsing it out. To have the full benefit of a shampoo, always repeat. I then used the Restorative Conditioner and used it as per the instructions stated. 'Work through hair from roots to ends. leave for 3 minutes, then rinse'. It also states that you can used it as a deep conditioning treatment by leaving it in your hair for 15 minutes. I didn't have the time to do this on this occasion but I will be trying it soon.
Then I used the Deep Treatment Masque. It's been a while since I've used a hair mask/masque so I think my hair really needed this. I massaged this into my hair for around a minute and brushed it through with my Tangle Teezer to ensure that all my hair was covered. I left this on my hair for 5 minutes before rinsing off. This can also be used as a 'salon style' treatment by covering hair with a plastic cap and applying a moderate heat for up to 30 minutes. I wasn't sure how to do this at home without driving Sam crazy by having my hairdryer on for 30 minutes so I decided against this. I haven't had a chance to try the Finishing Elixir yet as I haven't styled my hair properly. You simply spritz this onto your hair after styling.
I was impressed with how easy everything was to use. Although it could have taken a while if I went for the longer options (15 minute condition and 30 minute deep condition). You didn't need to use much of each product either, a little goes a long way. I used a little more conditioner than I did shampoo but I think this set will do at least 10 hair washes/treatments. Which is good for the size of them. I left my hair to dry naturally as I usually do but I really noticed a difference in the way it dried. It seemed much fuller and volumised which is strange considering it wasn't the volumising kit. I'm not complaining though.
Have you tried any of Shea Moisture's products? I think I'm going to try the Smooth and Repair Kit next.
Until next time,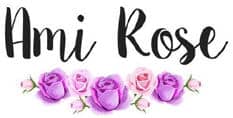 Be sure to follow me on social media to keep up to date with my latest posts!
You can find all of my social media links in the sidebar. I am @AmiRoseBlog on everything.