I always like to keep my recipes plain and simple so you can adapt them if you choose. I don't want to include ingredients that are difficult to get hold of that make you feel you can't make the recipes. But then I'm a really plain eater anyway. This is a traditional cheesecake recipe that I've been making for years and years. It's so easy that once you've made it a couple of times you won't even need the recipe. It's the sort of recipe you can play around with too. I often use ginger nuts instead of digestives for the base and you can top it with whatever you wish.

Traditional Cheesecake Ingredients:
Makes 1 cheesecake
250g biscuits (I usually use digestives)
1tsp vanilla essence
100g melted butter
400g soft cheese
284ml double cream (large pot)
100g icing sugar
200g strawberries to top (or whatever you choose)
Method:
Preparation – 15 minutes | Setting – Overnight
1. Grease and line a 23cm baking tin. To make the base put all of the biscuits into a strong food bag and beat/hit/smash with a rolling pin to create crumbs then mix with the 100g melted butter until thoroughly combined. Press this firmly into the prepared tin and chill in the fridge for an hour to set.
2. Place the soft cheese, icing sugar and vanilla essence in a bowl and mix until smooth, then add the double cream and mix again, beat for around 3 minutes until the mixture is combined. Pour this over the biscuit base and even the top with a spatula (or the back of a spoon). Leave in the fridge to set overnight.
3. Top with your desired topping just before serving.
Enjoy…
Please send me your photos on Twitter (@AmiRoseBlog) if you have a go at making this Traditional Cheesecake, I would love to see it.
Until next time,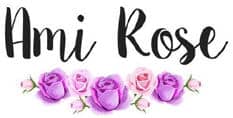 Be sure to follow me on social media to keep up to date with my latest posts!
You can find all of my social media links in the sidebar. I am @AmiRoseBlog on everything.