A couple of weeks ago I entered Milo into a competition with Jollyes Petfood Superstores on Facebook. It was a simple competition, you just had to upload a photo of your pet to their Facebook page and write a little about the photo then the photo with the most 'likes' won. Everyone must have loved Milo as much as I do as with over 500 likes, he won the competition.  He won £50 to spend at the Jollyes Gloucester branch and Sam and I decided that we were going to take him in and whatever he picked up he could have, it was him that won after all, with just a little help from his mum. I thought it would be fun to upload a little 'Milo haul'.




I'm going to start with the few things that I chose for Milo; the first one this Timberwolf collar, he was desperate for a new collar as he had a fabric one that was starting to wear. I thought I'd chose him a leather one so it would last a little longer, although I do think collars are a 'fashion' statement so I can see myself changing it before this one wears out.

I then picked up this 'Woof' feeding mat for the kitchen/waiting area at work, Milo comes to work with us every day and eats his lunch in the customer waiting area, he often eat rice and gets it absolutely everywhere. This makes life so much easier for me and it's machine washable too.

Milo needed some Ear Drops so I took this as an opportunity to buy them for Milo, although I don't think he was too happy about me spending his winnings on Ear Drops, sorry boy.

I then chose a selection of Bakers treats, these are his absolute favourites, they smell so meaty in comparison to other treats so I can see why Milo loves them so much. He'll do almost anything for these treats so it's always good to have them to hand. Since having Milo my pockets and handbags are full of dog treats and poo bags, classy I know.

I loved that all the dog toys were on a level for Milo to chose himself, he had great fun messing up the shop and playing with all the toys. The tennis ball bone was his first choice and it's still one of his favourites, I'm not too sure why as he's not crazy about tennis balls and it doesn't make any noises. He then chose this red squeaky ball and this rubber chicken (which is VERY annoying); he's got all his toys at work so he often brings these into my office when I'm trying to concentrate, thanks for that Milo.

This horse (I'm sure that's what it is) is his current favourite, he loves teddies so I can see why he likes this one so much. This has three different squeakers in it too so this is more annoying than the ball and the chicken put together, why do puppies like making so much noise? I'd rather him he chewing these than something he shouldn't though.

Lastly are these two 'treat toys' although Milo really doesn't have the patience for anything like this. The idea is that you put treats inside of the toy and your dog has to figure out a way to get them out, Milo likes these as toys but never even attempts to get to the treats if I put them inside. I think he knows he'll get treats anyway so why should he work for them, such a spoilt puppy.
Milo says he hopes you enjoyed his Jollyes haul, let him know if you have any suggestions for what he should buy next.
Until next time,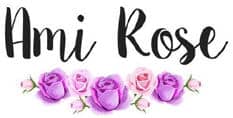 Be sure to follow me on social media to keep up to date with my latest posts!
You can find all of my social media links in the sidebar. I am @AmiRoseBlog on everything.