Every Christmas I am left with SO MUCH chocolate I don't know what to do with it. Other than sit and binge watch Pretty Little Liars with a tub of Heroes of course, I may have done that more times than I can count. This Christmas, or New Year should I say, I have challenged myself. Instead of getting rid of my Christmas chocolate by eating it during TV marathons, I'm going to eat it in the form of cake instead – in this case Gooey Chocolate Brownies. Good plan? I thought so too.


I'm going to try and incorporate my leftover chocolate into different cakes and cookies. I can remember my Christmas Popcorn Chocolate Bark being much loved so I'm hoping lots of you attempt these recipes too. I'm sure you've got lots of chocolate lying around.
This week's recipe is Gooey Chocolate Brownies with the addition of Quality Street, the "Purple One", Caramel Swirl and "The Green Triangle" to be exact. I though the Green Triangle would give them a bit of texture, the hazelnut in The Purple One would give them a bit of a crunch and of course the caramel would give them a gorgeous sticky caramel taste. I'm writing this before I've attempted to make them and my gosh is my mouth drooling.
I've used a basic Chocolate Brownie Recipe to make these, I didn't think I'd need to do anything special with the base recipe as I'll be adding the Quality Street to give them the "wow factor". I hope so anyway.
Chocolate Brownie Ingredients:
Makes 12 small Brownies/6 large Brownies
135g butter or margarine
180g caster sugar
2 eggs
50g self-raising flour
35g cocoa powder
Your choice of chocolate filling. I've used Quality Street but you can use anything such as Chocolate Chips (around 70-100g).
Method:
Preparation: 10 minutes | Baking: 40 minutes
1. Preheat oven to 180c (160c fan), grease and line a baking tin.
2.  As you know, I love the all-in-one method. Especially now with my stand-alone mixer (thanks Santa). Put all of the ingredients except for your chocolate filling into a bowl and mix gently until well blended.
3. Add your chocolate. I like to add this after so they don't get mixed up too much/broken. Of course, this will depend on the chocolate chosen. I chopped some of my Quality Street Chocolates into halves or thirds and left some of them whole.
4. Pour the mixture into your prepared baking tin and even the top with the back of a wooden spoon. Bake for 40 minutes until the top of the Brownies have hardened and a skewer comes out clean. Be careful not to burn the top. Allow to cool.
Enjoy…
What do you think of this Gooey Chocolate Brownies recipe? What a fun way to use up that leftover Christmas Chocolate.
Until next time,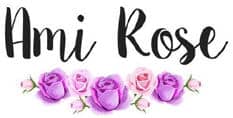 Be sure to follow me on social media to keep up to date with my latest posts!
You can find all of my social media links in the sidebar. I am @AmiRoseBlog on everything.