Viennese Whirls have been one of my favourite treats for as long as I can remember. People don't understand why I love them so much. Especially when they've been in the fridge for a while and the jam has gone all chewy, mmmm. I'm sure I get it from my Dad as they're one of his favourite treats too. When I spotted this Viennese Whirls Recipe in my Great British Bake Off Calendar I wanted to make them right away.  They're one of those things that you don't think are possible to make yourself, so understandably I was over the moon with how they turned out.

Ingredients:
Makes 18-20 (I halved the ingredients to make 8-10)
250g unsalted butter
100g icing sugar
1tsp vanilla extract
250g plain flour
30g cornflour
1/2tsp baking powder
Pinch of salt
1tbsp milk
For the Buttercream
75g unsalted butter
1tsp vanilla extract
175g icing sugar
3tbsp raspberry jam
Method:
Preparation/chilling: 30 minutes | Baking: 10-12 minutes
1. Line 2 baking trays with baking paper.
2. Use a free standing mixer or hand whisk to beat the butter for 2-3 minutes until pale and creamy. Add the icing sugar and beat for a further 2-3 minutes.
3. Sift the flour, cornflour, baking powder and salt into the bowl and mix until thoroughly combined. Add the milk and mix 30 seconds.
4. Spoon the dough into a piping bag fitted with a large star nozzle and pipe 18-20 spirals, around 5cm in diameter on the prepared baking trays. Make sure you leave a little space between each one to allow for spreading. Chill the biscuits for 20 minutes whilst the oven is preheating to 170c (150c fan).
5. Bake for 10-12 minutes until pale golden at the edges. Allow to cool whilst you make the buttercream filling.
6. To make the buttercream, beat the butter for 2-3 minutes until pale and soft, add the vanilla and mix again. Gradually add the icing sugar until the buttercream is pale, light and soft.
7. Spoon the buttercream into a piping bag and spiral on to the inside of half the biscuits. Spread the other half of the biscuits with jam and sandwich the two together.
Enjoy… 
I'd love to see your pictures if you have a go at this Viennese Whirls Recipe. Did you see last week's Quality Street Chocolate Brownies?
Until next time,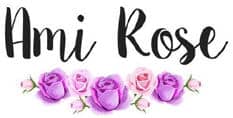 Be sure to follow me on social media to keep up to date with my latest posts!
You can find all of my social media links in the sidebar. I am @AmiRoseBlog on everything.