I celebrated my 25th Birthday this week and of course a Birthday isn't complete without a sweet treat of some kind. In this case it was the Biscuiteers Happy Birthday Luxe Biscuit Tin. Biscuiteers produce luxury Biscuit Collections for all occasions, each and every biscuit hand iced and delivered by post. They offer Biscuit Tins, Biscuit Boxes, Biscuit Cards, the list goes on. And each collection can be personalised to make the gift even more special.

The Happy Birthday Luxe Biscuit Tin contains 16 hand iced biscuits, available in either Chocolate or Gluten Free Vanilla. Presented in a gorgeous, hand illustrated tin. Biscuits include a giant Birthday Cake (which can be personalised), cupcakes, candles, presents, balloons, party hats, all sorts. I really enjoyed making my way through these, of course I shared them with Sam, reluctantly.
As well as Birthday Biscuits, Biscuiteers have the perfect, personalised gift for all occasions. My favourites are the Butterfly Biscuit Tin or the Bouquet Biscuit Tin. I love all the bright colours used in these. They also offer the chance to have a London Themed Afternoon Tea at the Biscuteers Boutiques, or a DIY Icing Session at either the Notting Hill or Northcote Road Icing Cafes. I'd love to ice my own Biscuiteers Biscuits one day. Although I couldn't make them look anything like these ones. I'm in awe of the skill these decorators have.
If you are new to Biscuiteers you can get 15% off by using my email address (ami-rose@hotmail.co.uk) at checkout, if that doesn't work just send me a quick email and I'll send you the discount link.
How gorgeous is the Biscuiteers Happy Birthday Luxe Biscuit Tin? Have you tried Biscuiteers biscuits before?
Until next time,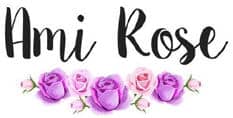 Be sure to follow me on social media to keep up to date with my latest posts!
You can find all of my social media links in the sidebar. I am @AmiRoseBlog on everything.