Anyone that knows me personally, or has been reading my blog for a while will know just how much I love tea. My cupboards at work are full of every tea you could possibly imagine. I'm not exaggerating either, there's around 30 different teas in my work cupboard. But there was a Purple Matcha sized hole in my life. I was yet to try a Matcha tea so was eager to get a Williamson Tea Purple Matcha* in my belly. The kettle was on and the tea was in my cup within minutes of the postmanlady dropping it into my office.
I fell in love with the little tin at first. The best treats are those that come in reusable tins like these. I often spend loads on biscuits because I want to use the tins for baking and we still have Cadbury's Chocolate Biscuit tins from the 1990's. I'm not sure what I'll use this little tin for, maybe earrings or something but it's definitely not going in the bin, ever.
I expected the tea to smell strange. I always expect that of powders for some reason (Morninga really does smell like horse manure, vom). But this one smelt lovely and made me want to drink it right away. Because I couldn't put it better myself 'this tea is made from the finest quality high grown leaves, whose slow growth has concentrated the naturally occurring antioxidants and polyphenols to very high levels. Drinking Purple Matcha Tea will help to create a feeling of health and wellbeing' I couldn't ask for more from a tea.
The set comes with a cute handmade bamboo whisk that I really don't want to use. Can it not just sit in my kitchen and look pretty? Anyway, to make this tea place half a teaspoon in a cup (a little one, as you really don't want to use your biggest mug for this tea), add freshly boiled water then whisk until smooth and slightly frothy. Leave to cool for a few minutes then enjoy. This tea tasted reaaally good. I could compare it to drinking a strong black tea, and I love a good strong tea. It's an enjoyable tea and it's nice to know that it's full of health benefits too! If you're not too keen on strong tea, Purple Matcha Tea will be perfect mixed into smoothies, fruit juice or porridge etc too.
Willamson Tea also do Ejulu Matcha along with many loose leaf teas and teabags. Such as Earl Grey, Ginger, Lemon, Mint and the cutest little mugs/gift sets ever. They even have their own Emma Bridgewater Mug. I'll have to try their Loose Leaf Green Tea next as you all know how much I love my Green Tea.
Have you tried any Willamson Tea products? What did you think?
Until next time,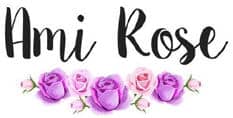 Be sure to follow me on social media to keep up to date with my latest posts!
You can find all of my social media links in the sidebar. I am @AmiRoseBlog on everything.