I've created one of my all time favourite Autumn nail looks. But it's nearly March. I was going to write this post and schedule it for September whilst it was on my mind but I really wanted to share the BarryM Iron Mani with you as it's a life changer.

I've had BarryM Iron Mani a while, months actually. I picked it up at my local M&S whilst buying my Beauty Advent Calender as I had to spend over a certain amount. As usual, I completely forgot I'd bought it so it's taken me this long to give it a try. Sorry the photo is a little over exposed, it was taken in really awkward lighting (bring on summer)!
For this nail look I used the BarryM Iron Mani as a basecoat and two coats of BarryM Raspberry from their Classic Collection for the colour. Another discontinued one but they've got a similar colour available in their Gelly High Shine Collection. I then used L'Oreal Gold Leaf as the top coat which is absolutely gorgeous. I love this polish and haven't use it in a while so I thought I'd incorporate it into this look.
Then I used BarryM Iron Mani as a top coat. I always use a clear top coat after a glitter top coat as it helps to hold everything in place and create a smooth texture. The BarryM Iron Mani is a twice weekly treatment to use on bare nails. Hence why I used it as the basecoat first, but I thought I'd give it a go as a top coat too. It is the 'Ultimate Nail Hardener' and strengthens, smoothes and protects breakages. Which is something I was desperately needing as all of my nails have decided to break recently. I've been using this for a few weeks now and I feel it's really helped my nails grow. I've also been using it as a nail treatment in-between polishes.
This is only £3.99 and available at your local Boots, Superdrug and M&S stores and online. You can also buy it directly from BarryM. If you haven't tried this one already, I'd really suggest picking it up when you're next shopping. My nails are a lovely condition since using this.
Do you have a favourite nail treatment product? Have you tried BarryM Iron Mani?
Until next time,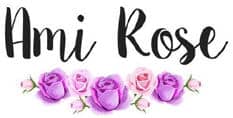 Be sure to follow me on social media to keep up to date with my latest posts!
You can find all of my social media links in the sidebar. I am @AmiRoseBlog on everything.