I became aware of Prairie Charms when they reached out to me on Twitter, I'm not sure whether they're a new company or an older company that's only just started working with Bloggers but either way their Blogger Outreach has been fantastic over the past couple of months. They offered, and I think they're still offering, great incentives for Bloggers so do get in touch with them if you're interested in working with them.
I've bought and received quite a bundle of things over the last couple of months so I wanted to do a quick brand review to show you the kind of things they make then I'll do some more in depth reviews and include the products in some other posts in the very near future.


What a selection right? I bought the straws and popcorn/sweet bags first as I wanted to include the straws in my smoothie favourites post and I just thought the popcorn bags were cute and ideal for the summer.


This necklace was sent with my order along with the hair-clips; I love the necklace and I can't wait to wear it, the rose gold style chain really appeals to me. I'm not sure whether I'll wear the hair-clips though as I tend not to 'style' my hair too much, it's either up or down for me.


They then launched an offer on Twitter that I couldn't resist. These 'no knot ties' are usually £7 a pack but they were offering two packs for £4. What an offer. I had to buy four packs and I'm taking the brighter ones on holiday with me this weekend. They're perfect for tying your hair up in the hot weather. Which is ideal if you've got dark thick hair like me. They've just launched their summer designs, I'm trying to resist at the moment but I know I'll be stocking up after my holiday.
I'm waiting for them to do an offer on their Head Wraps now as I love them all, especially their Savannah and Ella ones!

Lastly were these Washi Tapes. I bought them with the idea of designing and making my own business cards instead of buying them each time. When you add up how much you spend on them it's hard to believe; I think homemade business cards will add a creative and personal touch too.
Have you bought anything from Prairie Charms? What are your favourite items? Anything on your wishlist?
Until next time,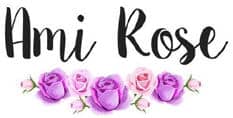 Be sure to follow me on social media to keep up to date with my latest posts!
You can find all of my social media links in the sidebar. I am @AmiRoseBlog on everything.