A couple of weeks ago I was invited to another event with Benefit at Debenhams Bristol, as I thoroughly enjoyed the last one (read my post here) I was eager for this one. Especially as the aim of the #boldisbeautiful event was to become an 'eyebrow queen'. I arrived a little early after doing a bit of window shopping and Bea was already there waiting. I was pleased to see her as we had lots to talk about at the last event. Much to our dismay (or not) we were the only two that turned up to the event. But this gave the event a really chilled atmosphere and we were able to ask loads of questions. As well as try any products that we'd had our eye on. And be given fantastic tutorials along with a talk from a volunteer for the Look Good Feel Better charity.


We were greeted with drinks, sweets and chocolate, sounds like a perfect event doesn't it. I was dieting for holiday for the last event so didn't eat any of the 'munchies' although I most definitely made up for it at this event, oops. Whilst munching away we were given a talk by a volunteer from the Look Good Feel Better charity that Benefit supported throughout the month of May. With all proceeds from their Brow Waxes going towards this charity and Refuge.
It was really interesting to hear about the charity from someone that was heavily involved in it. It was such an eye opener. I don't think many people stop and think about how lucky they are to have good health. This talk has made me react differently to the little things (and bigger things) that I get annoyed with on a day to day basis, what's the point of letting something that you can't change ruin your day?

After the talk we went straight onto the brow tutorials. I've owned Benefit 'Brow Zings' for over a year so I've learned the basics but I was nice to see how the professionals do it. And be given the chance to use their tool to work out exactly where the arch should be. I know brows are the most important bit of a lot of people's make-up but I only really do them when I'm going out out. Rather than incorporating them into my daily make-up routime. I have naturally think, dark brows anyway (I hated these until eyebrows became a 'thing'). I'm quite impressed with how they turned out!
Thank you Kirsty for having me at yet another fabulous event. I'm looking forward to your next one, I hope I'm one step closer to becoming a 'brow queen' now.
Until next time,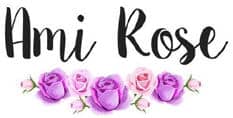 Be sure to follow me on social media to keep up to date with my latest posts!
You can find all of my social media links in the sidebar. I am @AmiRoseBlog on everything.