It's another pink one sorry. I seem to have fallen back in love with the colour as I'm really not a pink person. Or didn't used to be anyway. I've kept it simple this week with a quick two coat base and a top coat as I didn't have much time to do my nails at the weekend. I've used Nails Inc Shoreditch for the base and BarryM Confetti Nail Effects for the top coat. I completely forgot about my Nails Inc stash but I won't be doing that again as I was so impressed with the coverage of this polish after just one coat and the colour is just perfect for summer. It's safe to say that I've dug out my other Nails Inc polishes from my collection and will be featuring them in a few #ManiMonday's to come.


Most of my top coats are BarryM, I can't resist them. They make such a difference to an otherwise plain nail. I feel they give the impression that you've spent much more time on your nails than you really have. I love it when customers ask me where I get my nails done. I'm always able to give them the answer 'I did them myself'. I've actually never paid to have my nails done. Although that's probably saved me a fortune over the years I've certainly 'invested' that money into my nail polish collection which is nearing 200. Should I be calling it an addiction yet? Anyway I used Tinsel Town from BarryM's Confetti Range to complete this look which is one of my favourites. Along with Bubblegum. I've got most of the colours from this range now.
Which top coat do you turn to to instantly glam up your nails?
Until next time,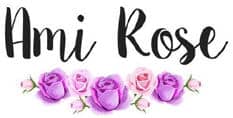 Be sure to follow me on social media to keep up to date with my latest posts!
You can find all of my social media links in the sidebar. I am @AmiRoseBlog on everything.