I'd already decided on this nail art look when I last used MoYou's Image Plate 128 with my pink zig zag look (featured in last weeks #ManiMonday) and loved the idea of a bee style using black and yellow. I think I've feature nail stamping on my blog enough times for my regular readers to know what it is but if you're a new reader, first of all hello and thank you for reading and secondly, if you don't have a clue what nail stamping is I've done a more in depth 'how to' here.

For this look I've used Collection 2000's (now Collection Cosmetics) Sherbet Lemons for the base and have used two coats of this to ensure I have a solid colour. I then used MoYou's image plate 128 and their nail paint in black to do the stripes.
I love this combination. It makes me feel really summery when I look at my nails. I know yellow isn't a colour for everyone but I feel it really suits my skin tone. I'm wearing a lot of blue/denim at the moment so it goes well with this too.
Have you done MoYou nail stamping before? Were you impressed with how easy it was?
Until next time,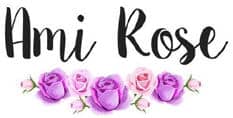 Be sure to follow me on social media to keep up to date with my latest posts!
You can find all of my social media links in the sidebar. I am @AmiRoseBlog on everything.