I'm finally starting my Manicure Monday's again, for good this time. I've made sure that I'm well ahead of myself so you won't go without. I have so many new polishes to try and new ranges to share with you. I'm genuinely excited. This week's focus is on the ORLY MatteFX polishes. I picked this one up in Pink Flakie in my local TKMaxx store and couldn't wait to try it.

The ORLY MatteFX polishes are a topcoat to give a matte finish to any nail art look. They come in a few different colours including Pink, Green and Clear. I used Nails Inc Shoreditch as my base colour, the first coat of this is always quite transparent but the second coat gives it this vibrant fuchsia pink colour, it's one of my go-to summer polishes and has been for years.
After my two coats of Shoreditch had dried it was time for a quick coat of the ORLY MatteFX topcoat, I didn't need to use much and it dried quickly, I do find that matte polishes tend to dry quicker. I found that once the topcoat had dried, some nails were more matte than others but I loved the subtle effect of the Pink Flakie.
I'm looking forward to trying this one again over some other colours/brands and seeing the finish it creates. I'm sure the ORLY MatteFX topcoat has helped my polish stay for longer too as I've been wearing it days now.
Have you tried any ORLY MatteFX polishes? What did you think?
Until next time,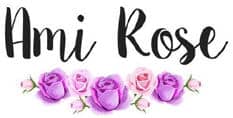 Be sure to follow me on social media to keep up to date with my latest posts!
You can find all of my social media links in the sidebar. I am @AmiRoseBlog on everything.