Little Bit Lavish is a monthly subscription box that will be launching in the UK very soon. Thanks to the #BloggerTikiParty I've been given the opportunity to try them before they're released so I thought it was only right to share the contents with you. The idea of Little Bit Lavish is to give us the 'me time' we deserve, filling the box with products for a damn good pamper session.
Each month's box contains up to 8 products, mainly full size, and the box will be £20 per month including P&P. You can sign up for further information and be the first to hear about the new releases at www.littlebitlavish.co.uk. Our special Little Bit Lavish Blogger Box contained;

Evolve Organic Beauty Satin Leg Gloss – Hand made using only natural and organic ingredients. This is a dry oil to give legs a smooth and glossy finish. It will dry right away, but give a sleek 'wet look' finish.
Skin & Tonic London Naked Lip Balm – Another 100% organic product. This is perfect for applying in the evening to stop my lips drying out overnight.
Miss Patisserie Unicorn Hoof Bath Ball – My favourite product in the box, just look at all those gorgeous colours. This is hand crafted with a sweet blossom and peach scent. It's too beautiful to use, I think I'll save it for a special occasion when I really need a pamper.
Glow For A Cause Solid Perfume – Solid Perfumes have been around for a while but I haven't had a chance to try one so I was pleased to see this in the box. I'll let you know what I think!
What do you think of the Little Bit Lavish Subscription Box? The Bath Ball is my favourite.
Until next time,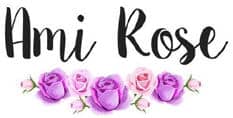 Be sure to follow me on social media to keep up to date with my latest posts!
You can find all of my social media links in the sidebar. I am @AmiRoseBlog on everything.