A couple of weeks ago Mum and I went on a spa day at The Oxford Hotel along with a little shopping at Bicester Village. We couldn't go all the way to Oxfordshire and not visit Bicester Village. It's one of my favourite shopping outlets. Although we were quite disappointed with our trip, I usually go crazy and buy loads. I had a whole post planned for my purchases, but this time we didn't seem to see anything we liked. I bought a Radley watch, Estee Lauder eyeshadow and Smashbox BB Cream and mum bought herself a Smashbox eyeshadow. I'm sure these will be featured in my next Recent Purchases post. I loved what I was wearing and it was all relativity new so I thought I'd do an OOTD for you.



Jumper: New Look | Boots: New Look | Trousers: Ted Baker (last season)
I featured these Boots on my last OOTD post and I've been living in them over the last few weeks. They were only £19.99 and they're such good quality. I don't think the colour of them is perfect for this outfit but they're so comfortable and I knew I was going to be on my feet for quite a bit of the day so comfort was important.
Another New Look purchase was this jumper. I've been loving New Look recently, especially their knitwear; someone please stop me going back and buying this jumper in the other two colours it available in. This is so cosy, it's got a roll neck to keep you warm and it's nice and thick. The back is longer than the front and it has a high slit in the side. I think this jumper is fab for the winter months, it keeps you warm, looks smart and shows off your figure too.
Lastly are these Ted Baker trousers. I bought these over a year ago but they were far too small for me. I'm not sure why as I bought another two pairs at the same time and they fitted perfectly but different styles can have huge differences. I've been trying to improve my diet over the last few weeks and I was over the moon that these finally fit. They're a lovely colour for Autumn and work really well paired with the black jumper. I need to buy some black ankle boots now though as I think these would have worked better than brown.
Have you got any New Look products on your wishlist at the moment? I think I need to go on a New Look spending ban.
Until next time,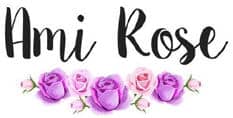 Be sure to follow me on social media to keep up to date with my latest posts!
You can find all of my social media links in the sidebar. I am @AmiRoseBlog on everything.