I can't seem to win with my hair, it hates the heat in the summer and hates the cold and wind in the winter. My hair is thick, there's lots of it and it's always voluminous. I suppose it's not that bad but I'd love it to be glossy and controllable. Maria Nila have just released a few new products* for hair treatment, nourishment and styling so I've been looking forward to trying them out.

The first is their Luminous Colour Hair Lotion. Although my hair isn't coloured at the moment, this also works as a primer for hair, seals split ends and tames frizz. Which I often have an issue with considering how thick my hair is. This is a leave in styling lotion. To use you apply a small amount to towel dried hair and style as you usually would. I don't blow dry my hair so I don't think this will have an amazing effect on my hair but I did find that after using this my hair was much easier to style.  This has a colour guard complex to protect coloured hair. It's sulphate and paraben free, 100% vegan and has pomegranate as an active ingredient which is rich in antioxidants.
The Structure Repair Leave In Cream is the best for my hair type, dry and damaged. This helps to preserve the colour and repair the structure of damaged hair. And protects it against the effects of heat styling. I don't understand why my hair is so damaged. I've blow dried it a handful of times in my life and I use straighteners on it once a fortnight, at the most. I think I just need to get a lot chopped off and start again as it just seems to be getting worse. This is applied and used the same as the above Hair Lotion, apply a small amount to towel dried hair and style as usual. This contains repairing algae, is sulphate and paraben free and 100% vegan.
Lastly is their True Soft Argan Oil, this aims to give dry, damaged hair an instant relief. It hydrates and nourishes from within the hair's cortex and adds softness and shine whilst reducing brittleness and frizz. Argan Oils is quickly absorbed which is why this has an almost instant effect. This also has a colour guard complex which keeps coloured hair looking vibrant and protects against damaging UV radiation. To use you apply a small amount to damp hair and either blow dry or leave hair to dry naturally. This can also be used in dry hair.
This is my favourite product from Maria Nila's new collection as it has the same results if you leave your hair to dry naturally. I try so many hair products that depend on the heat from blow drying to 'work'. I applied a small amount of this on my dry hair minutes after I opened the parcel. And was more than impressed right away. My hair is on it's last day of washing and it's usually dull and frizzy by this point. It added an instant shine and made my hair much easier to control. I would definitely recommend this one.
All of the products mentioned above can be bought from www.sallyexpress.com.
Have you tried any products by Maria Nila? What did you think?
Until next time,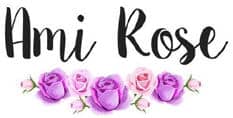 Be sure to follow me on social media to keep up to date with my latest posts!
You can find all of my social media links in the sidebar. I am @AmiRoseBlog on everything.