MoYou kindly sent me some of their new Square Image Plates (Image Plate 400 featured here). Along with their Christmas Image Plate (302) which I absolutely love. I love Christmas and I love nail art so I couldn't wait to do my Christmas nails this year.



I originally decided to paint my nails red and green but I painted them a couple of days before I was going to do the nail art and they sadly chipped. But then I decided to get my Scarlet Red SensatioNail polish out. I was certain this would stay perfect throughout Christmas. You don't want the nail polish to chip whilst you open your presents now do you.
I've mentioned more about the SensatioNail starter kit here so you can find out about how easy it is to use. I painted my nails with the Scarlet Red polish. Then went straight in with the nail art. I used MoYou's Christmas Image Plate to do the patterns. I decided to use random parts of the plate rather than being 'organised' about it and doing the same pattern on each nail.
Unfortunately some of the designs didn't pick up from the plate very well but I still think the finished look is so effective and Christmassy, I think it looks quite elegant too. I was going to finish the look off with a gold glitter top coat but thought this may make the design a little too busy so I left it with just the red and white.
What do you think of my Christmas nails this year? Have you used any SensatioNail or MoYou products?
Until next time,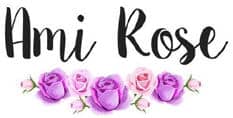 Be sure to follow me on social media to keep up to date with my latest posts!
You can find all of my social media links in the sidebar. I am @AmiRoseBlog on everything.