I've collected a fair few MooGoo products* over the last year from various different events. I thought I'd round them up and let you know what I think of them now I've had a chance to trial them all. MooGoo do a massive range of products for all ages and skin types, this is only a small sample. They are stocked in many different independent stores or you can buy directly from their website.

What I love most about MooGoo is that you can shop by skin problem. Such as dry skin, eczema and acne so you can find products that aim to help with or have been created especially for these conditions. You can tell they've really put a lot of thought into their products and their customers that will be using them.
The first product I've tried is their Anti-Ageing Face Cream. Yes, I know I don't have wrinkles yet but I cannot stress the importance of using anti-ageing skincare enough. Why wait until you've aged to start trying to anti-age? This contains Squalene, which our skin starts producing less of in our 20's, to maintain the oil balance in skin. This also contains many anti-oxidants, some of which can prevent and even reverse sun damage.
The next is Skin Milk Udder Cream; I love the names of their products. This is their original cream and is particularly aimed at people with dry skin. It has added Milk Protein to keep skin supple and smells absolutely gorgeous. As do all of their products.
I haven't had much of a chance to use Cover Me Up Buttercup. Mainly because there hasn't been any sun to try it out in but I cannot wait as I've heard such lovely things about it. This can be used as a 'normal' moisturiser or as an SPF 15 sun cream. They have some great reviews on their website from people saying how well this has worked for them and their children.
Lastly their Blemish Cleansing Moisturiser. I used this after removing my make-up as a second cleanse and this little pot lasted me nearly two weeks as a little goes a long way. This cleansing cream also works as a leave on moisturiser so I massaged it into my skin to cleanse on an evening then left it on my skin, as a moisturiser, overnight. This helps to prevent excess oils. I've got combination skin and my oily patches are usually around my t-zone and chin. I noticed that when I was using this my skin wasn't oily at all, I definitely noticed when I'd missed a day.
Trying these products has made me want to try so many more as they all worked wonders for my skin. I couldn't get over how gorgeous they all smelt (I'm really bad at describing scents so I won't even try). I think I'll try one of their lip balms or their oil cleanser for combination skin next. Let me know if you have any recommendations.
Have you tried any of MooGoo's products? Do you have any recommendations?
Until next time,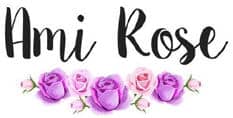 Be sure to follow me on social media to keep up to date with my latest posts!
You can find all of my social media links in the sidebar. I am @AmiRoseBlog on everything.