Another day another Speedy Nail Polish. This time the Avon Speed Dry Range. My friend ordered this a while ago and received two so thought I'd like to try one, knowing just how much I love nail polish and trying new ranges. I've featured many different Avon polishes throughout the years on Ami Rose, this one being the most popular. I always say that Avon isn't covered enough on blogs as they produce some damn good products, some that are all time favourites of mine.


Avon Speed Dry is a relatively old Avon range, although it is still available in the US. I always forget that 40% of my readers are based in the US. I have heard that Avon UK are thinking about bringing back the Avon Speed Dry range too so I thought I'd get this 'out there' just in case they did.
For this week's Manicure Monday I've used the colour ASAP Pink from the Avon Speed Dry range. Pink really isn't my colour. I've probably done well over 50, even 100 Manicure Mondays but I'm not sure if there's one pink one. Blues on the other hand, there's hundreds of them! But I thought I'd try it anyway as my friend kindly gave it to me.
I used my Nail HQ Growth as the base coat then used two coats of ASAP Pink for the main colour. It didn't cover well at all on the first coat, it seemed to disappear once it was on the nail, but the second coat finished it off perfectly. I find some nail polishes can be like that. It didn't quite dry in the claimed 30 seconds but it did in a few minutes which I was pleased with. Kind of love the finished colour too. What is happening to me?
Have you tried any colours from the Avon Speed Dry range? What do you think of this one?
Until next time,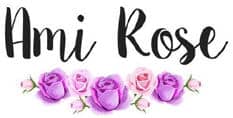 Be sure to follow me on social media to keep up to date with my latest posts!
You can find all of my social media links in the sidebar. I am @AmiRoseBlog on everything.