Suffering from the end of summer blues? Here's ten reasons to snap out of it and start loving Autumn, and yourself. Although from my Twitter feed, I think you're all looking forward to Autumn just as much as I am. It may be because we haven't really had a summer but my gosh I can't wait for cosy jumpers, early nights and plentiful sweet treats to become acceptable. What are your favourite things about Autumn?

1. More pamper time – you get home, it's dark and all you want to do is get in your PJs and snuggle. Make the most of it, put a face mask on, paint your nails, have a long relaxing bath.
2. Candles – I know I love burning candles throughout the year but there's something about Autumn/Winter that sees my candle collection diminish. It's part of my winter evening routine, get snug then light a relaxing candle. I tend to burn festive scents such as 'Winter Spice' by Yankee and they make me feel all warm and fuzzy inside.
3. Chunky knits, hats, scarves – I feel the cold so badly and love putting on a chunky knit with a pair or black jeans or woolly tights along with every winter accessory I could possibly imagine.
4. Dark lips and rosy cheeks – I either go drastic or barely there, there's no in-between for me. I love a dark plum lip with a natural eye look or a completely natural look with a rose blush and a nude lip. I love how make-up looks change with the seasons.
5. BATHS – I know I mentioned this earlier but it's a love of it's own. I have sooooo many baths in the colder months and I love to use as many products as possible and light a million candles. I especially love using my Westlab Epsom Salts* to detox my body whilst relaxing in the bath.
6. Movies – Autumn/Winter is when you need a Netflix subscription, although I do find Netflix does slack in movies. I tend to rewatch all of my favourites, mainly Disney, along with a lot of rom coms, sorry Sam. Oh, and I've almost watched the entire 7 seasons of Gilmore Girls in the last few weeks.
7. Autumn nail looks – Deep reds, burnt oranges, mustards, browns, deep greens, ahhh I can't wait for the Autumn colours to be released. Hurry up BarryM, I need more Speedy Quick Dry in my life.
8. Starbucks – Cliche right but I don't drink anywhere near as much Starbucks as I do in the summer. I love to have a warm drink to stroll around town with and keep my hands warm. Although I do tend to order a Green Tea rather than any of their fancy ones.
9. Pumpkins and Fireworks (and the run up to Christmas) – Autumn has the best holidays. Sam and I always go the extra mile with our pumpkins and try and go to each and every firework display. Mittens, sparklers, toffee apples, mulled cider, you cannot beat the atmosphere at firework displays.
10. PUDDING, or dessert, whatever – This one needed emphasising, someone tell me why we need apple and blackberry pie, scones, brownies and sticky toffee pudding in Autumn? I'm not sure whether I love the baking or the eating the most but expect to see lots of sweet treats on the blog in the next few months.
I hope this has got you in the mood for Autumn, I've certainly enjoyed writing it!
Until next time,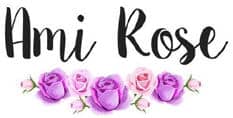 Be sure to follow me on social media to keep up to date with my latest posts!
You can find all of my social media links in the sidebar. I am @AmiRoseBlog on everything.