I've got a little treat for you today. I was shopping the BarryM Gelly High Shine Range in the sale and spotted Guava. Guava is one of my all time favourites from the BarryM Gelly High Shine Range so I thought I'd create a look using it, then send you to the BarryM site so you could purchase it for just £1.99. Yep, £1.99. Do you love me yet?

The BarryM Gelly High Shine Range was brought out at least 4 years ago now and BarryM are constantly adding to it. I can't wait to see what Autumn Colours they add to it this month. The formula is amazing, the brushes are even better and the colours are divine. BarryM did well with this range. Sugar Plum and Pomegranate are gorgeous.
I decided I was going to do a full BarryM nail look so used their All In One Nail Paint for the base coat. I then used two coats of Guava for the main colour, a coat of Ruby Glitter to add sparkle then Iron Mani for a top coat. Ruby Glitter is a very old BarryM polish so I can't link you to that one I'm afraid. But it does prove just how long BarryM polishes last, I've got some I bought over 9 years ago.
It's amazing what a simple glitter top coat does, it changed this nail look completely. I think Treasure Chest would work well with this colour which is also £1.99 in the sale. I've just bought Plum and Glitterati Catwalk Queen too, I can never resist a BarryM sale.
Have you tried any polishes from the BarryM Gelly High Shine Range? Which are your favourites?
Until next time,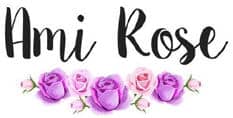 Be sure to follow me on social media to keep up to date with my latest posts!
You can find all of my social media links in the sidebar. I am @AmiRoseBlog on everything.