As the prospect of Sam and I buying our own house grows, so does my homeware wishlist. I'm forever getting ideas and adding them to my wishlists. Being asked to write a Moleta Munro Wishlist was just a chance to add EVEN more to this. Sorry bank balance. We've already bought so much, we've got our breakfast bar stools (not that we know whether we'll even have a breakfast bar yet), toaster, almost every cup, plate, bowl, cutlery and a hundreds of bakeware items. I can already tell the kitchen is going to be my favourite place to be. We've only decided on the colour scheme of the kitchen, bathroom and lounge, I can't decide on the bedroom whatsoever.

1. A Rest Three Seater Sofa – We've decided on a grey and purple colour scheme for the lounge and this sofa would be perfect. It's minimalist but looks rather comfy too. There's plenty of room for lots and lots and lots of cushions.
2. Printed Cushion Wrong For Hay – Like this one, although this would be for the kitchen. Moleta Munro do quite a few different prints for these cushions but this one was my favourite.
3. Palissade Chair – I love the bistro style outdoor chairs. These green/sage colour ones would look nice with pink cushions and accessories.
4. A Coat Stand Byalex – I'm tempted to go for a black/gold/copper theme in one of the rooms. This coat stand is absolutely gorgeous.
5. Bella Coffee Table Hay – I think this would work perfectly in the lounge with the grey sofa. Although I go through stages of really liking wooden furniture but then really hating it. We'll cross that bridge when we get there.
6. Now Magazine Rack – Another copper/rose gold item, I'm actually tempted to put something like this in my office to display all the magazines that my company has been featured in.
7. Varjo Rug Grey – Something else for the lounge, a room wouldn't be complete without a rug, especially when I'm thinking of dark wooden floors. This rug would make it much cosier.
8. Twiggy Letture Floor Lamp – I've got a feeling I'm going to have so many different lights throughout the house, and Moleta Munro have hundreds. I get so fed up with dull rooms and not being able to see anything, I've got even worse since I've been blogging too! This one would work really well in the hallway or kitchen.
I'd love for you to leave links to your recent homeware hauls/wishlists, I'm always looking for things to add to mine.
Would any of these Moleta Munro items be on your wishlist?
Until next time,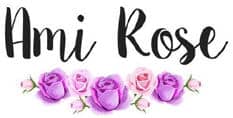 Be sure to follow me on social media to keep up to date with my latest posts!
You can find all of my social media links in the sidebar. I am @AmiRoseBlog on everything.
*in collaboration with Moleta Munro