My Dad had a BBQ on the weekend and asked if I could do some baking. I love when I get asked because I set aside time to do it, rather than just telling myself I don't have the time. My Mother was only saying the other day that she hadn't seen any baking on my blog recently, sorry guys. I had an idea to make Strawberries and Cream Cupcakes (I will make them soon though) but couldn't find the Haribo Strawberries to top them, instead I found these Ice Creams so decided on Ice Cream Cupcakes. This is a nice and simple recipe and one I feel I've almost perfected after many years of Cupcake making.


Ice Cream Cupcakes Ingredients:
Makes 12 Cupcakes
90g butter
90g self raising flour
1tsp vanilla extract
90g sugar
1 large egg
Icing Ingredients:
125g softened butter (not melted)
1tsp vanilla extract
300g icing sugar
1-2tbsp double cream (if needed)
Topping and colouring of your choice
Method:
Preparation – 20 minutes | Baking – 12-15 minutes
1. Preheat your oven to 170°c and line a cupcake tin with 12 cupcake cases.
2. Whisk together the butter and sugar until light and fluffy.
3. Add the egg and vanilla extract and whisk again until well combined.
4. Add the flour a little at a time and fold into the mixture, folding allows as much air to remain in the mixture as possible meaning you'll have nice, well risen cupcakes.
5. Fill each cupcake case around 3/4 of the way and place your cupcakes in the oven for 12-15 minutes. I usually turn the heat up to around 200°c for the first 2-3 minutes then turn the heat back down to 170°c for the remainder of the time. This always helps my cupcakes rise.
6. Leave for 30 minute to ensure fully cool before decorating.
7. To make the buttercream icing, cream together the butter and vanilla then add the icing sugar a little at a time, fold into the mixture then whisk well until fully combined, add cream if the mixture seems a little stiff.
8. I took a couple of spoonfuls out of the mixture and added pink and yellow food colouring so I could have a coloured swirl in my icing.
9. Add your buttercream into a piping bag with a small star nozzle then swirl all over your cupcakes.
10. Either leave them as they are or top with a decoration of your choice. I used jelly ice creams.
Enjoy…
What do you think of these Ice Cream Cupcakes? I'd love to see your photos on Twitter (@AmiRoseBlog) if you have a go at making these. Do you have a go-to cupcake recipe that works every time?
Until next time,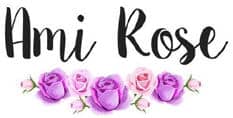 Be sure to follow me on social media to keep up to date with my latest posts!
You can find all of my social media links in the sidebar. I am @AmiRoseBlog on everything.