It's been a while since I've done an Avon Manicure Monday but boy have I'm been missing out. I've always been a fan of Avon nail products and their Avon Magic Effects Molten Metal range is no exception. The colours are just divine. I wish I'd bought more than one now. I'm eyeing up the Gold and Blue Steel colours already. This is part of their Magic Effects range that I've already featured, the Turquoise colour is one of my favourites and is my go-to colour for my toes as it lasts so so long, I couldn't wait to try the Molten Metals range.


The formula to the Avon Magic Effects Molten Metal range is very similar to the original Magic Effects range, although I would say it's a little thinner so you couldn't quite get away with one coat, although I almost always use two coats anyway. I prepped my nails with the Boots No7 Nail and Cuticle Cream and used a Base Coat of BarryM's 3 in 1 nail polish before using my two coats of Avon Magic Effects Molten Metal in Copper.
This didn't take long to try at all, I did have a little help from my O.P.I Quick Dry Drops to ensure my nails were fully dry. There's nothing worse than spending a while painting your nails to then ruin them trying to do a simple household task, I love painting my nails now thanks to these drops.
I'm so so so so impressed with the coverage and shine of this colour, just look how gorgeous it is. Why oh why did I not buy more colours? Actually saying that, my Grandma kindly bought me this polish as I always have a flick through the Avon catalogue when I visit, I may have to treat myself next time. The Graphite colour is wonderful.
I topped my two coats of Copper in a coat of Orly Tough Cookie, I'm yet to find a top coat that I love more than this one. I find it helps my polish last well over a week and adds a beautiful shine throughout.
Have you tried any colours from the Avon Magic Effects Motel Metal range yet? Which are you favourites?
Until next time,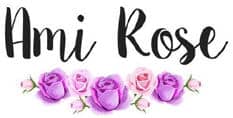 Be sure to follow me on social media to keep up to date with my latest posts!
You can find all of my social media links in the sidebar. I am @AmiRoseBlog on everything.