Told you I'd be featuring my other Models Own polishes didn't I. I just couldn't resist this gorgeous Models Own Red Carpet GlitterGel. As I mentioned in my Manicure Monday a couple of weeks ago, I picked up four polishes from the Clothes Show and this was one of them. I almost bought four from the Colour Chrome range but decided I wanted to try some of their other polishes too.

Models Own Red Carpet is from their HyperGel GlitterGel range. This is a range I haven't tried before. A lady on the Model's Own stall at Clothes Show recommended it to me. I couldn't decide between Red Carpet and Petunia Glitz but I figured I wear more red, or colours that go with red. So this was my best option.
This is a gel polish, the same formula as their HyperGel range which I've tried previously. The GlitterGel range contains small glitter pieces to give your nails a nice shimmer. The lady on the stand told me I'd only need one coat of this. I never believe people when they say that and I was right not to. One coat didn't cover the nail and was a pale pink colour but one more coat gave it this perfect deep red shimmer look.
I love that the glitter isn't too obvious, it's not big pieces of glitter in a completely different shade, instead it contains little pieces in a slightly lighter shade than the polish to give it this delicate shimmer effect. I haven't put a top coat on this yet and it's already lasted five days, I'm very impressed so far.
Have you tried any polishes from Models Own GlitterGel range? Are there any other Models Own polishes or ranges that you would recommend?
Until next time,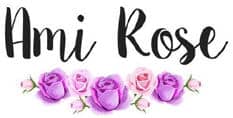 Be sure to follow me on social media to keep up to date with my latest posts!
You can find all of my social media links in the sidebar. I am @AmiRoseBlog on everything.