This is one of my 'go-to' quick, easy, healthy, vegetarian recipes, made even easier with Very Lazy products. I've mentioned a few times that although I'm not 'officially' vegetarian, I tend to eat veggie 95% of the time as I thoroughly enjoy it. I've got my Mother into it too as she'll almost always order the veggie option when we go out to dinner as she knows she'll regret it otherwise. I enjoy chicken and the occasional crispy bacon sandwich but that is about as far as it goes with my meat intake. I get my protein many other ways though and this chickpea curry is one of my favourites, it only takes 15 minutes too.
Very Lazy* have recently launched two new products, Piri Piri Chillies with oil and Grated Ginger with oil alongside their already famous Chopped Garlic and two pastes, Garlic and Lemongrass. These make cooking so much easier and are handy to keep in the fridge and add a fabulous flavour to food. I've used the Chopped Garlic many times in the past and I know I'm definitely going to be purchasing the Piri Piri Chillies again as they gave this curry a nice kick.


Ingredients:
Serves 4
1 small onion (chopped)
1/2 teaspoon Very Lazy Grated Ginger
1 teaspoon Very Lazy Chopped Garlic
400g can tinned chopped tomatoes
1 teaspoon ground cumin
1/2 teaspoon Very Lazy Piri Piri Chillies
1 teaspoon curry powder
1 teaspoon chives
1/2 teaspoon turmeric
5 tbsp red lentils (prepared)
200ml coconut milk (I used a block of coconut cream and added water)
1 head broccoli broken into florets
 400g can chickpeas
100g baby spinach leaves
1 lemon (juice)
1 teaspoon oil (I use Rice Bran)
Method:
Preparation – 20 minutes | Cooking – 0 minutes
1. Put the onion, garlic, ginger, Piri Piri chillies and tomatoes in a food processor or blender to make a puree. I didn't have a blender so I just cut the onion nice and small and stirred everything together.
2. Heat oil in a pan, add the spices (curry powder, chives, turmeric), then add the puree and simmer for a few minutes. Then add the prepared lentils, coconut cream/milk and broccoli and cook until the broccoli has softened.
3. Stir in the chickpeas and spinach and simmer for a further four minutes, flavour as necessary, you may want to up the heat a little or add other spices to make this dish to your own taste.
4, Squeeze over the lemon and serve on its own or with rice, naan bread or papadums (or a bit of everything).
Enjoy…
I'd love to see your photos on Twitter (@AmiRoseBlog) if you have a go at making this yourself.
Until next time,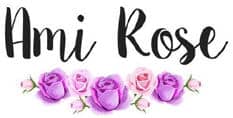 Be sure to follow me on social media to keep up to date with my latest posts!
You can find all of my social media links in the sidebar. I am @AmiRoseBlog on everything.