I almost didn't put this one live, just look how short my nails are. For some reason they're quite weak at the moment. I've given them a bit of TLC and they seem to be growing again. I said in my last Manicure Monday that I really should start filing my nails down before they get ridiculously long. They only end up breaking right off. I used Models Own Pukka Purple and loved the colour so I thought I'd do a quick Manicure Monday.

Models Own Pukka Purple is another nail polish that I picked up at Clothes Show last year. It was recommended to me by a lady on the Models Own stand and I loved the colour. I've been featuring so many purples on my blog recently. I can't get enough of them. It's part of their Ice Neon Collection which I hadn't heard of before Clothes Show. I love discovering new colours and ranges.
The Ice Neon Collection consists of five shades. Pukka Purple, Bubblegum, Pink Punch, Luis Lemon and Toxic Apple and are all very vibrant neon colours. These colours are all in frosted bottles and should be kept in the fridge to protect the intense colour from fading. I've never thought about keeping nail polish in the fridge but I do know people that do and swear by it.
This goes on SO well. It's probably one of the only polishes that I could recommended using just one coat of. I used two for this look but it covers so well after one coat so if you had limited drying time (one coat always dries ten times quicker than two) then you could put a quick coat of this on and be out the door in ten minutes.
I think Models Own Pukka Purple is perfect for Winter – Spring but the other bright neon colours would be perfect for summer. I couldn't imaging wearing neon yellow or pink at any other time. I think Bubblegum would be perfect to wear on the beach.
Have you used any colours from Models Own Ice Neon Collection?
Until next time,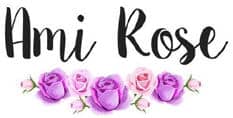 Be sure to follow me on social media to keep up to date with my latest posts!
You can find all of my social media links in the sidebar. I am @AmiRoseBlog on everything.