I was originally just going to do a Valentines Gift Guide For Him as most of my readers are female but I was helping a friend choose a Valentines present for his girlfriend whilst he was searching through Google for Gift Ideas and I thought I'd do a men's Valentines Gift Guide too. Although I think this make's a lovely wishlist too if any girlies are feeling like treating themselves. I'm not one to go 'all out' for Valentines, Sam and I did at the beginning of our relationship, buying each other clothes, jewellery etc but now we give each other a little gift and go for a nice meal/activity (cinema, bowling, crazy golf) instead. I think spending time together and enjoying yourselves is much more important than an expensive gift. I've kept this Gift Guide £30 and under just to show you that you really don't need to break the bank to get your girlfriend something she'll really love. Sam, if you're reading this – here's a few hints.

1. Cath Kidston Lace Hearts Stanley Mug (£6.50) Image Source – I have an unhealthy addiction to mugs, I have far too many and can't stop buying them. I use them for anything whether it be keeping make-up brushes in or actually drinking out of.
2. Cath Kidston Lace Hearts Make-up Case (£10.00) Image Source – I spotted this in the same design as the mug and thought I'd include it too. I use Cath Kidston Make-up Cases and they're so pretty and you can fit so much in them. They're really durable and waterproof and seem to last me forever. They come in a range of sizes.
3. Thornton's Signature Gift Bundle (£30.00) Image Source – A perfect gift for a chocoholic as there is now £20 off this bundle making it just £30.00, could a gift be any more perfect?
4. 9ct Rose Gold Heart (£29.99) Image Source – There is £25.00 off this Rose Gold pendant for Valentine's and I think it's a perfect gift and such a gorgeous colour.
5. Mastrad Sun Fondue Set (£20.00) Image Source – There's nothing better than an evening in with roasted marshmallows and chocolate fondue, especially on Valentine's Day. You could cook a lovely meal and finish it off with strawberries and marshmallows dipped in chocolate. Sometimes cosy nights in are much better than a night out.
6. Relaxing Spa Day For Two (£30.00) Image Source – Buy A Gift or other companies such as Groupon or Wowcher have plenty of Spa Day deals on around Valentine's Day. You can pay a little more for treatments or you could just enjoy the use of the facilities and a light lunch. This Spa Day can be used at 1 of 18 Village Hotel's around the UK.
7. Vera Wang Princess (£29.00) Image Source – You can't go wrong with perfume at any time of the year. Vera Wang Princess is one of my favourites and there's currently a massive £31 off this 100ml bottle at The Fragrance Shop.
8. MAC Viva Glam Lipstick (£15.50) Image Source – Or any MAC Lipstick for that matter, if you're worried about choosing a colour (although I would absolutely love my fiancé to go out and choose colours for me) you could always give a MAC Giftcard instead.
9. Pandora Openwork Link Love Ring (£30.00) Image Source – I have a charm that matches this and think it's such a gorgeous design. I always wear a Pandora ring that my Grandma bought me. I love that their rings are so simple but elegant and beautiful. I've been wearing mine every day for around 3 years now and it still looks as good as new.
10. Pandora Heart Lock and Key Charm (£30.00) Image Source – As I mentioned a Pandora Charm above, I thought I'd include one of my favourites. I think almost everyone has a Pandora Charm Bracelet now, they're such a nice idea as each charm has a meaning, I look at my bracelets and there's lovely memories to go with each and every charm.
 I hope this Valentines Gift Guide has helped you out a little.
Until next time,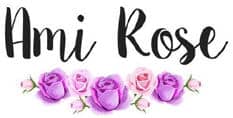 Be sure to follow me on social media to keep up to date with my latest posts!
You can find all of my social media links in the sidebar. I am @AmiRoseBlog on everything.