Another Valentine's themed recipe for you today, Lemon Kisses. These are SO GOOD if I do say so myself (I hate complementing my own cooking). I had a massive baking session one Sunday afternoon and made these, the Jam Tarts featured last week and some Lemon Meringue Cupcakes that will be featured next month. Out of the three, these we my favourites by far and my Mum loved them too – she actually asked me for the recipe to make them herself. These are very lemony as there's lemon in the biscuits, centres and icing so if you're not a big fan of lemon, this probably isn't the recipe for you but if you love lemon like me, what are you waiting for?


Lemon Kisses Ingredients:
Makes 20 Lemon Kisses
200g soft butter
140g caster sugar
1 egg yolk
1 teaspoon vanilla essence
2 lemons
280g plain flour
1/2 jar lemon curd
140g icing sugar
Method:
Preparation – 40 minutes | Baking – 10-12 minutes
1. Stir together the butter, sugar, egg yolk, vanilla essence and zest from 1 lemon with a wooden spoon. Then stir in the flour to make a smooth dough.
2. Roll out onto a floured surface and stamp out 40 hearts (or as many as your mixture will make). Arrange onto baking trays, cover with cling film and leave in the fridge to chill for 30 minutes.
3. Heat the oven to 200c (180c fan) and bake the hearts for 8-12 minutes until pale and golden. Leave to cool.
4. Spread half of the biscuits with lemon curd then top each one with another biscuit.
5. Mix the lemon juice and icing sugar together then drizzle over the top of the Lemon Kisses, scatter with lemon zest and leave to set.
Enjoy…
I'd love to see your photos on Twitter (@AmiRoseBlog) if you have a go at making these yourself.
Until next time,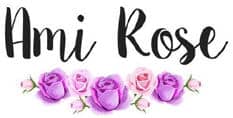 Be sure to follow me on social media to keep up to date with my latest posts!
You can find all of my social media links in the sidebar. I am @AmiRoseBlog on everything.