I dragged Sam along to his first wedding fair on Sunday at Thornbury Castle. It's absolutely beautiful and those who have me on snapchat (amirose5) would have seen my photos throughout the day. I thought as I was going to be trying on rings etc I wanted to make my nails look presentable. And sticking with the wedding theme, I went for BarryM Silk Effects Pearl, with an added twist.


This is the only colour I own from BarryM Silk Effects Range which is crazy for me. I've usually got the entire ranges within weeks of them being released. I'm slacking a little. BarryM's Silk Effects range has unfortunately been discontinued on their website but it's still available in most Superdrug and Boots stores and online so get your hands on it if you do see it as I'm sure it won't be around much longer.
The glitter top coat I've used for this look is Aqua Glitter which is a very old polish. VIP from their Glitterati range is a very similar colour but the glitter is a little more dense. I'm sure I've had the Aqua Glitter polish over 7 years which goes to show just how great BarryM polishes are. This is one of the main reasons I'm addicted to them – they last forever.
BarryM's glitter polishes always increase the staying power of my nail colour too. I never use a top coat with them and my nail polish always lasts a week without chipping. Although it would probably last much longer if I left it but I remove my polish after a week as I get bored easily and need a new Manicure Monday to share with you.
Have you used any polishes from BarryM's Silk Effects or Glitterati range? What did you think?
Until next time,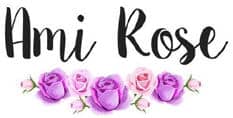 Be sure to follow me on social media to keep up to date with my latest posts!
You can find all of my social media links in the sidebar. I am @AmiRoseBlog on everything.