Butterfly Cakes are one of my all time favourite things to make (and eat). They're so simple but give a little twist on the standard cupcake, they don't require many ingredients either, you can usually find them all in your cupboards/fridge. These are ideal for a 'pick me up', I'm definitely an 'I'm feeling down lets make a batch of cakes girl' rather than just picking up the nearest junk food I can find. I find baking therapeutic and often I feel better after just baking cakes, then feel amazing once I've eaten them. So, having a down day? Bake yourself some of these!

Butterfly Cakes Ingredients:
Makes 12 Cupcakes
120g butter
120g caster sugar
1 teaspoon vanilla essence
120g self raising flour
2 medium eggs
 Icing
120g icing sugar
60g butter
Method:
Preparation – 10 minutes | Baking – 15 minutes
1. Preheat your oven to 190c and line a cake tin with 12 cupcake cases.
2. Cream the butter and sugar together until light and fluffy using a wooden spoon or hand whisk. Add the vanilla essence.
3. Beat the eggs with a fork then add them into the mixture a little at a time along with a little of the the flour. Fold in the rest of the flour, fold until the mixture is well combined trying to keep as much air in the mixture as possible.
4. Fill the paper cases with the mixture, fill them to about half way then bake for around 15 minutes, checking on them often after 10 minutes. You want them to be golden and bouncy to the touch.
5. To make the topping, whisk the icing sugar and butter together to make butter icing. Leave the cupcakes to completely cool before adding this to the cakes.
6. Cut a slice from the centre of each cake and fill the 'hole' with the butter icing mix. Cut the slice you cut out of the cake in half and place it on the topping to look like butterfly wings.
Enjoy…
I'd love to see your photos on Twitter (@AmiRoseBlog) if you have a go at making these yourself. They're definitely one of my favourites to make.
Until next time,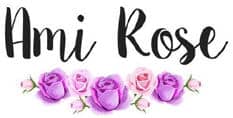 Be sure to follow me on social media to keep up to date with my latest posts!
You can find all of my social media links in the sidebar. I am @AmiRoseBlog on everything.