When Taffy Mail got in touch asking if I wanted to try and create some recipes with the contents of their American Candy Subscription Boxes, of course I jumped at the chance. I love developing recipes, especially where American Candy is involved, or any candy for that matter. I made two recipes with their "Classic Box" over the weekend. These M&M Peanut Butter Cookies and some American Candy Cupcakes which will be featured on Taffy Mail's Blog later this week. Make sure you look out for those.

Ingredients:
Makes 10 cookies
170g butter
200g caster sugar
100g light brown muscavado sugar
1 large egg
330g self-raising flour
2tbsp peanut butter
Filling of your choice. I used Peanut Butter M&Ms and a Peanut Butter Snickers cut into small squares
Method:
Preparation: 10 minutes | Baking: 12 minutes
1. Preheat oven to 200c (180c fan) and line 2-3 baking trays with baking paper.
2. Mix together the butter, sugar and peanut butter until light and creamy. Add the egg and mix again.
3. Gradually add the flour, making sure your mixture doesn't get to dry.
4. Add your "filling" and stir again gently to ensure it's evenly distributed throughout the cookie dough.
5. Roll the dough into 10 balls and place on the baking trays, pressing down slightly. Leave plenty of room for the cookies to spread. Place in the oven for 12 minutes.
6. Leave to cool. They will continue to harden in this process.
Enjoy…
I'd love to see your photos if you have a go at making these M&M Peanut Butter Cookies. Have you tried making your own Viennese Whirls yet?
Until next time,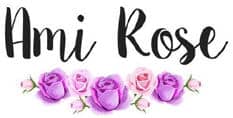 Be sure to follow me on social media to keep up to date with my latest posts!
You can find all of my social media links in the sidebar. I am @AmiRoseBlog on everything.