This is the second time I've made this Flapjacks Recipe over the last couple of weeks. The first time they'd all disappeared before I had a chance to take a photo of them so they must have been good. I still haven't taken the photos as I write this but I've hidden this batch from the cake thieves so I'm able to take photos this evening. Flapjacks are one of my favourite "sweet treats". We have Millionaire Flapjacks in our Charity Sweet Box at work – a recipe that I'm going to try to recreate at some point as they are divine. I've used Pumpkin Seeds for this Flapjacks Recipe but you can fill with anything. Currants, mixed seeds, cherries, chocolate or leave them plain.

Ingredients:
Makes 8 (large) Flapjacks
120g butter
100g golden syrup
100g demerara/golden caster sugar
 50g pumpkin seeds
250g porridge oats
1/2 tsp cinamon
Method:
Preparation: 10 minutes | Baking: 25 minutes
1. Preheat oven to 190c (170c fan). Grease and line a baking tin.
2. Place the golden syrup, butter and sugar in a large pan over a low heat, stirring continuously until dissolved. Remove from the heat.
3. Add the remaining ingredients to the pan and stir until well combined.
4. Pour the mixture into your prepared baking tin, pressing down firmly with the back of a wooden spoon. Bake for 25 minutes until starting to brown. Leave to cool then cut into rectangles/squares depending on the size you require.
Enjoy…
I'd love to see your photos if you have a go at making this Flapjacks Recipe. Have you seen last week's Peanut Butter Cookies?
Until next time,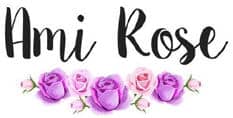 Be sure to follow me on social media to keep up to date with my latest posts!
You can find all of my social media links in the sidebar. I am @AmiRoseBlog on everything.