If you follow me on Twitter you will already know that I'm giving up Refined Sugar for lent. Or at least trying to. I challenge myself each and every year and have done for as long as I remember. Giving up biting my nails at the age of 4, or chocolate at the age of 6 or Facebook in my teenage years. My Mum can probably tell me some other strange things I've given up over the years too. I always set myself a good challenge. And most of the time I succeed.

A couple of years ago I managed to give up refined sugars, and my gosh did I feel good for it. I lost weight, my skin cleared and I had so much more energy. I curse myself every day that I let myself slip back into my old ways, as I really did feel fantastic. I'm hoping this time I can make some more long-term lifestyle changes.
We have our own house this year which will hopefully make things a little easier. I did a big food shop on Sunday morning, filling the cupboards with ingredients to cook from scratch. And filling my snack basket with mainly savoury snacks and fruits. I've been planning meals for the duration, mostly ones that I can make ahead of time, meaning I'm not slaving away in the kitchen for hours when I get home from work.
To quickly define what I mean by "refined sugars". I mean any sugars that have been added to foods and not naturally occurring. And those "no added sugar" claims on drinks/snacks don't mean a thing. They're filled with artificial sweeteners which in the case of Aspartame in particular, do more harm than eating the sugar in the first place. I will not be eating anything that has any form of sugars or artificial sweeteners on the label. Whether that's sugar itself, dextrose, fructose syrup, maltose, caramel syrup and everything else that sugar is disguised as in foods.
I'm hoping giving up refined sugar makes me aware of what goes into our foods. Whilst looking for sugar content I'm sure to notice the other rubbish that is put into processed foods, making me more likely to cook from scratch. Although I'll still be eating a few "convenience foods" I'm sure these will be limited considerably. I've planned lots of hearty meals, from lentil hotpots, to smokey bean enchiladas and creamy tomato gnocchi. And many many more.
Over the 6 weeks you'll be getting lots of "sugar free" content from me.
Sugar Free Snacks
Quick Evening Meals
Health/Body Updates
Sugar Free Baking
Eating Out Sugar Free
Skin/Acne Updates
Sugar Free Meals "on-the-go"
And much much more so please make sure you subscribe or follow me on Social Media if you're interested in this content. Of course I'll still have my regular content and have Easter Baking posts scheduled throughout March so you won't be missing out on those.
I'd love to hear from anyone who's tried giving up refined sugar before, or managed to give it up completely. It would be good to share tips/recipes/ideas.
Have you ever considered Giving Up Refined Sugar? I'd love for you to join me on this challenge.
Until next time,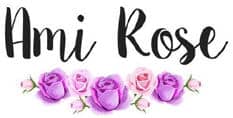 Be sure to follow me on social media to keep up to date with my latest posts!
You can find all of my social media links in the sidebar. I am @AmiRoseBlog on everything.