Following on from my Bathroom Renovation post a couple of weeks ago. The other part of the house we're currently planning is the Garden. The Garden Renovation has been something we've been meaning to start for a while, but it's just seemed that everything else is much more important. Although the Garden is important to me personally, we needed to sort somewhere to eat, sleep and wash first. The Garden definitly wasn't a high priority. But now the rest of the house is almost completed, apart from the Bathroom of course, it's time to get planning the Garden. And I'm adamant I'm going to be out there on a gorgeous patio with a cup of tea in one hand and a book in the other by the time the Summer comes.


As you can see, the garden is quite a mess. It's been neglected since we moved in – using it as a dumping ground whilst we've been renovating the rest of the house. It's not a big garden whatsoever but we have some really nice plans to make is something special. Somewhere we can enjoy spending time on a hot summers day. I can just imagine it now. We've cleared it up a little bit since moving in. Removing the old "decking" and just having a general tidy up. We've now got rid of the metal shed too.
At first we wanted to have decking but the more we've thought about it the more put off we've been. Our neighbours have said the drainage isn't very good which would mean it would get quite waterlogged. With decking being prone to rotting and requiring quite a lot of upkeep we thought better of it. A patio would be a much better idea, requiring almost no upkeep whatsoever. I've been having a look for the patio slabs and I like this sort of style. And definitly a grey colour.
We're not going to make any flower beds as such, instead we're going to fill the patio with gorgeous plant pots. Although we have considered building a wall like this photo at a later date. I am wanting to make my own little vegetable garden though. I really like the idea of growing my own vegetables such as lettuce, peppers and cucumber. I'm going to get a little "pop-up" greenhouse and give it a go, I bought lots of seeds from Lidl on the weekend. I just need to wait for it to warm up a little.
As far as Garden Furniture goes, this is going to be the main feature of our patio. Somewhere we can sit and relax on a Sunday morning, or entertain guests for a weekend BBQ. I like the idea of the Rattan furniture sets, these would look perfect in the corner where the shed was. That area gets lots of light too. We've also thought about putting a nice bench underneath the window but we don't want to clutter it up too much as it's only a small space. We have all of the recycling boxes currently sitting right outside the main door too so we're going to by a nice little bin storage so we can disguise this.
We like the idea of a Chiminea for those colder Summer nights. As well as a BBQ to sit in the corner. I really like the idea of having BBQs in the summer, even if it's just the two of us. Oh I'm getting all excited for Summer writing this, we need to get cracking though if we want to have the Garden Renovation finished by the time the sun makes an appearance.
What do you think of our ideas for the Garden Renovation? I'd love to hear your ideas too.
Until next time,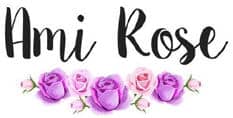 Be sure to follow me on social media to keep up to date with my latest posts!
You can find all of my social media links in the sidebar. I am @AmiRoseBlog on everything.