Mini V Nutrition was created by Vicky Pattison who found her fame as part of Geordie Shore. She has since created her brand Mini V Nutrition. As well as working damn hard to lose four stone, bring out an award winning fitness DVD and a best-selling book, you've got to admire her motivation. She's always adding new products to the Mini V Nutrition range. I was delighted to be asked to review some of her products*.

Mini:BURN: These are Vicky's most popular product in the Mini V Nutrition range. I've been taking these for three weeks now so I've almost finished the 30 day course. These give me SO much energy. It was a shock to the system at first because my body isn't used to caffeine. But that initial shock/shakiness only lasted a couple of days. They help to maintain a normal weight, increase alertness and concentration and decrease tiredness and fatigue. I've lost over half a stone since taking these and almost reached my goal weight.
Mini:DETOX: I love this one, I love that fact that they work whilst sleeping. They're made to detox your body, remove unwanted toxins and cleanse your digestive system. I've almost finished my course of these, I've got about a week left and I've noticed such a difference. Especially in terms of bloating as that's something I suffer with badly. I found that after just a week of taking these I was waking up feeling refreshed along with a flat stomach. Amazing.
Mini:COLLAGEN: I've already mentioned this one in my Supplements Favourites post and it's one of my favourites from the Mini V Nutrition range. It contains Collagen, Hyaluronic Acid and Vitamin C and E to maintain the elasticity of the skin and protect skin cells. Each tub contains 60 capsules and you should take two each day with food. I've only been using this less than a week so I haven't noticed any drastic changes yet but I will report back after the full course.

Mini:SHAKE: The idea of having the powder in the same bottle you add the water/milk to and shake is brilliant. Why has nobody thought of this idea before? I'm forever skipping shakes because I don't have a clean bottle to put the powder in. These shakes come in a range of flavours and they come ready to shake and go. Each shake contains 116 calories and upwards of 27.6g of protein, ideal for drinking before a workout. I love the Strawberries and Cream flavour but the Vanilla is also lovely too. They're not full of carbohydrates either which can be common in protein shakes as there's a maximum of just 1g.

Mini:BAR: So much goodness in such a tiny bar, this contains 6.3g of protein and is designed to give you a 'sustained energy release without the crash'. I had this one before a run last week and oh my it's gorgeous, it's so filling too.
Have you tried any of Vicky Pattison's Mini V Nutrition products? Will you be after reading this?
Until next time,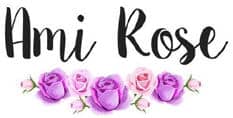 Be sure to follow me on social media to keep up to date with my latest posts!
You can find all of my social media links in the sidebar. I am @AmiRoseBlog on everything.