OK so I'm awful at sticking to things; Father Christmas *cough Mother* bought me the Great British Bake Off calender for 2015 and I said I was going to make it my goal to bake each month and get the recipes on my blog. Have I done that? No. You can read January's recipe for Chewy Apricot Cookies here but it's now July and one recipe definitely isn't enough. All 12 recipes WILL be on the blog by the end of the year, challenge accepted.
FRESH BERRY SCONES
Ingredients:
Makes 8-9 scones
250g self raising flour
Pinch of salt
60g caster sugar
50g unsalted butter chilled and diced
1 medium egg
100ml buttermilk
40g fresh raspberries
50g fresh blueberries
Buttermilk for brushing
Demerara sugar for sprinkling
Method:
Preparation 15 minutes | Baking 15 minutes
1. Preheat over to 220 degrees Celsius. Sift flour and caster sugar into a mixing bowl and add the pieces of butter and rub them into the flour using your fingertips until it resembles fine breadcrumbs.
2. Put the egg and buttermilk into a small bowl and beat together, pour into the crumbs and mix in with a round bladed knife to make a rough looking dough. Add the berries and use your hands to bring the mixture into a ball with the berries evenly distributed (try not to squash the berries too much).
3. Lightly dust the worktop with flour. Turn the dough onto the worktop and pat out until it's about 3cm thick. Dip a 6cm cutter in flour and use it to stamp out as many scones as possible.
4. Set the scones slightly apart on the baking sheet/s to allow for spreading, lightly brush the top with buttermilk and sprinkle with sugar. Place in the over and bake for 12-14 minutes until golden brown. Leave to cool.
Serve with double cream and your favourite Jam (I used Posh Pickles Raspberry and Redcurrant Jam*) and enjoy…
Have you made Berry Scones? I'd love to see your photos if you have a go at making these yourself.
Until next time,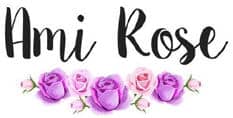 Be sure to follow me on social media to keep up to date with my latest posts!
You can find all of my social media links in the sidebar. I am @AmiRoseBlog on everything.
*Recipe courtesy of the Great British Bake Off 2015 Calender