I couldn't resit doing a Manicure Monday post on these Maybelline Colour Show Nail Tattoos I picked up in the pound shop. Yes, pound shop. I don't think Maybelline are doing their Colour Show Tattoos any more. But as there are so many alternatives available I still wanted to include these in a post. I'm currently lusting over these Metallic Nail Tattoos from ASOS.



I'd used nail stickers a few times but never nail tattoos until buying these ones. It brought my childhood back in a flash. They are applied exactly like those temporary tattoos we used to put all over our bodies and annoy our Primary School teachers with. Remember the ones that went around your belly button or the superhero characters we'd have all the way up our arms and legs. I can still remember the teachers sighs when we'd turn up to school and the tears when we had to scrub them off in the bath. Anyway, I could ramble on about my childhood all day.
To create this look I first filed my nails, sorted the cuticles and applied a clear base coat to protect my nails from staining; I used BarryM's 3 in 1 polish. Then I applied MoYou's Special Nail Paint in White. This is the one I usually use for image stamping but it's such a durable polish and doesn't chip whatsoever. It also creates a really strong white colour after just one coat which is a rarity. I left this to completely dry for an hour before applying the nail tattoos, I didn't want to ruin the base when I was pressing on the tattoos.
To apply the tattoos you need to peel of the clear film from the design that fits your nail the best. Then place the design face down onto your nails and apply a damp cotton pad on the back. Hold for 10-20 second until the paper is damp and almost slips off. I hope that makes sense as it's really hard to explain but I'm sure everyone has applied a temporary tattoo at least once in their life. The process is almost identical. Once the design is in place you should apply a generous amount of clear top coat to seal the image and ensure that the finished look will last as long as possible.
I can't get over how easy this look was and how professional it looks. I've got another lace set that I can't wait to try. I can imagine they'll be in a Manicure Monday post very soon.
Have you used nail tattoos before? What do you think of this New York design?
Until next time,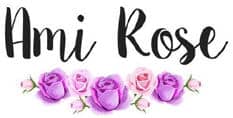 Be sure to follow me on social media to keep up to date with my latest posts!
You can find all of my social media links in the sidebar. I am @AmiRoseBlog on everything.