Rio Beauty recently sent me one of their Nail Art Starter Kits to review. I thought I'd do a few posts over the next couple of months on the different nail art designs/effects you can achieve from this kit. This kit comes with two polishes, a black and a white, 4 pots of glitter in various colours, a wheel of gems in various shapes, a professional nail art pen in black, 3 different brushes and a dotter tool. It also comes with an instruction/ideas booklet and a Salon Nail Techniques DVD. The Rio Beauty Nail Art Kit kit is perfect for both the nail art enthusiasts and the beginners.

I had a look through their booklet to decide which look I wanted to create. Decided on this flower/daisy pattern that was on the front of the box. Which I thought it was very suitable for Spring just around the corner. Although you wouldn't know it with the cold whether we've had recently.
You should always start with the lightest colour when doing nail art then add the darker colours on top of that. I decided to use one of BarryM's polishes from their Silk Collection for the base as I thought it would give the petals a nice pearl effect. I did the base the night before as I wanted to ensure it was completely dry before adding the design. I've got such a bad habit of adding nail art too early and ruining the base so do make sure it's properly dry first.
The next step was to add the red to create the shapes of the petals and the centre of the flowers. I used the smallest brush from the set for this so it ensured I could get every little detail. It doesn't look like anything like a flower after this step but once you add the black outlines you're left with a fantastic finished product in just 4 relativity easy steps.

For the black I used the Professional Nail Art Pen & Brush from the Rio Beauty Nail Art Kit. Choosing to use the small pen as I knew it would enable me to get a more accurate/detailed design. I started outlining the petals then added the "creases" to bring the image to life. Then I went back over the red with the small brush to enhance the colour.
It's important to add a clear lacquer over any nail art. Or any nail paint for that matter. To protect your nails and guarantee "staying power". I always find my nail art lasts over twice as long when I've added a clear coat. I'm currently using Orly Tough Cookie which adds a perfect amount of shine. With this step it is vital that you leave you nails until they're thoroughly dry before painting over the clear lacquer. As this can smudge the black over your nails and totally ruin all your hard work.

Have you used the Rio Beauty Nail Art Kit? I'd love to see some of the designs you're created.
Until next time,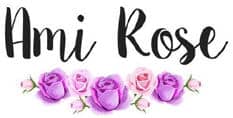 Be sure to follow me on social media to keep up to date with my latest posts!
You can find all of my social media links in the sidebar. I am @AmiRoseBlog on everything.