I've been perfecting this Vanilla, Chocolate and Berry Cookies recipe for a while now. Trying different measures of ingredients/baking times etc. I think I've just about got there. They're so quick to make too and don't require many ingredients so they're perfect to bake if you've got a little bit of spare time. The only thing I had to buy for this recipe was the chocolate. Everything else I had in the cupboard and I've recently been sent a range of fruit bars from Nakd so I thought I'd incorporate one of these into the recipe instead of using raspberries. As my regular readers will know, I've given up junk food for lent. I baked these and I couldn't even try one, I'm impressed with my motivation.


Ingredients:
Makes 8 medium cookies
100g butter (at room temperature)
150g caster sugar
1 medium egg
200g self raising flour
1 large bar white chocolate (I used Milkybar Mini Eggs)
1/2 bar milk chocolate (I used Smartie Mini Eggs)
1 Nakd Bar (I used Berry Delight)
1 tsp vanilla essence
Method:
Preparation – 10 minutes || Baking – 10 minutes

1. Preheat the oven to 200c. Whisk the butter and sugar until smooth.
2. Beat the egg in a separate bowl. Add to the mixture and whisk together. Add the vanilla essence.
3. Add the flour a little at a time making sure its thoroughly mixed together.
4. Put all the mini eggs/chocolate into a sandwich bag and beat with a rolling pin until the pieces have broken up a bit. Don't beat them too much though as it's nice to have big chunks of chocolate in the cookies. Slice the Nakd Bar* into small raisin sized pieces and add to the mixture along with the chocolate pieces. Stir well.
5. Line two baking trays with baking paper. Using your hands form 8 balls with the mixture and place on the baking trays. Make sure you leave enough room between them as they will flatten and spread.
6. Place in the oven for 12 minutes. Remember not to over cook them as they will continue to cook once they're out of the oven. Leave to cool for 30 minutes.
Enjoy…

What are your favourite things to bake? Will you be making these Easter Themed Berry Cookies?
Until next time,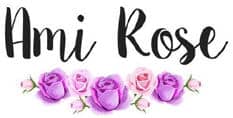 Be sure to follow me on social media to keep up to date with my latest posts!
You can find all of my social media links in the sidebar. I am @AmiRoseBlog on everything.